Yves Budin is a self-taugh drawer, painter, illustrator from Liege, Belgium. Yves learnt to draw by spoiling his body and soul into his father's comics collection. His brother's Art books collection opened him to expressionism. Alberto Breccia and Hugo Pratt taugh Yves, one could drawn with black and white. American literature has initiated him to great voyages, the Beat Generation, the world of Jazz...
Hi Yves, today MoW selected 5 of your artworks inspired by music. Can you tell MoW why you chose those music artists ? What was the music behind the artworks ? What inspired you to create them ?
The five selected illustrations ( Erykah Badu, Madlib, Serge Gainsbourg, Nick Cave, Nina Simone ) are representative for the music that I listen to. It's a trite to say : all people that claim to like (good) music don't just listen to one type of music. The range is big. In the same day I can listen to jazz, electro, old Delta Blues, african percussions, haitian voodoo or french pop ; no problem. It's actually quite healthy.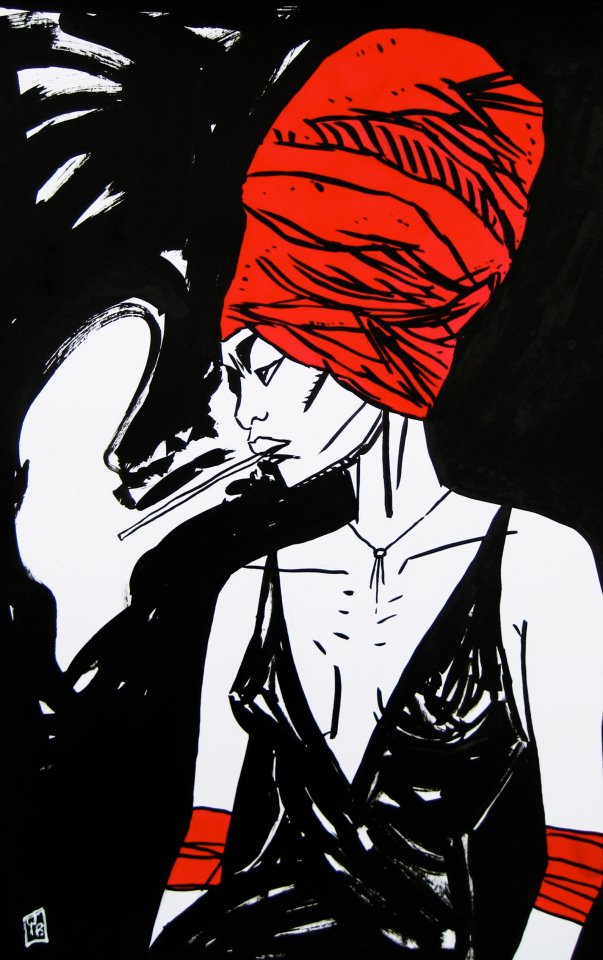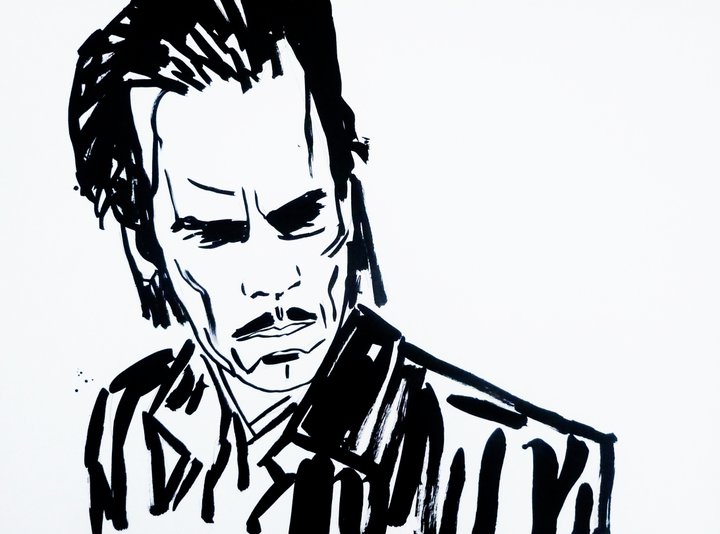 The artists that I choose are those that have touched me at a certain moment. And who also have an iconographic charisma. You know what I mean ? Buddies like Miles Davis, David Bowie, Tom Waits, ...
If I have to choose a particular song for each drawing, I would say : Erykah Badu : "I Want You" / Madlib : "Slim's return" / Serge Gainsbourg : "l'Anthracite" / Nick Cave : "Midnight Man" / Nina Simone : "Sinnerman"
Why is music important to you and your art?
Music, just as literature and paintings, have had a dominant place in my life since the beginning of my adolescence. My art is intimately linked to Music. When I started to exhibit my drawings, they were all in black and white and closely linked to the world of jazz. I wanted to re-create – in an expressionistic way – the atmosphere of the covers of old jazz records. (the label Blue Note, among others, with the pictures of Alfred Lion, Francis Wolff and the graphics of Reid Miles ; the photography of William Claxton, Herman Leonard, Guiseppe Pino, Guy Le Querrec, … ). Afterwards, my artist's palette started to grow, I started to draw - without discrimination and without moderation - all important figures of my musical pantheon. Like a tribute.
I live with music and so : I create with music. Music is such a powerful and tremendous vector for inspiration !
If you had to choose between the artworks presented today, which of your artwork would be your favorite ? And why ?
That's really difficult to say. I would choose two. The painting « Madlib Street Scene » is a good summary of my graphic research on Black and White, on Chinese ink. The themes are urban settings, jazz, hip hop, loneliness, the vibrations in the street, Freedom : recurring themes in my work.
« Nina Simone » is one of my favorite paintings on canvas : it mixes different techniques and has certain colours I don't usually use. The patterns in the background are reminders of voodoo symbols, yoruba rituals that have inspired me for years now.
Can you tell MoW more about the techniques you used. How old is your technique? How did it start? How long does it take you to make an artwork?
I'm an autodidact. I never had drawing lessons ( in an academic way ). Therefore my palette is, at the base, very poor. I mainly work with pen and brushes, with China ink (India Ink, to be precise – of the brand Winsor & Newton, as recommended by two of my masters of Black & White comics : Alberto Breccia and Hugo Pratt ), as well with ecoline ( special mention for the carmin red of Winsor and Newton, that I change now myself to get that typical red that you find a bit everywhere in my illustrations ). I also use Tipp-Ex. It's the technique I have chosen now since about 15 years.
For my paintings I often use acrylic, but more and more I have started using latex or paint for outside walls.
I generally work very fast : the expression and the strength of my illustrations comes from this fast & furious side. Aside for the paintings, I rarely spend more than an hour on a drawing. On a painting I can work several days, but that's rare. I get bored quickly, unfortunately.
Do you have plans on creating new artworks insipired by music ?
I published books on Miles Davis, Nina Simone, David Bowie. At the moment I'm working on my next book, dedicated to Mister Serge Gainsbourg ( Oh, sorry : Seurge )
Do you listen to music when you're working ? If so, what kind of music ?
I always listen to music when I'm working. Always. But while I'm working on an illustration of Tricky, for instance, I didn't necessarily listen to his music. The music that I listen to while I'm painting goes with the mood I'm in, what I want to transfer into the drawing or the technique I intend to use. So if I have to apply myself, draw accurately, delicately, I'm going to listen to quiet music, ethereal, repetitive ( for exemple : Apollo, of Brian Eno / Selected Ambient Works by Aphex Twin / Drumming by Steve Reich, … ). If I have to use strength, agression, expression, speed, I rather listen to electronic music, or rock.
Just to give you a flavor, my favorite music to draw to : Gustavo Santaolalla, Aphex Twin, The Soft Pack, Miles Davis, John Coltrane, L.F.O, Brian Eno, Todd Terje, Asgeir, Koudlam, MF Doom, The Budos Band, Tame Impala, Blind Willie Johnson, Skip James, The Kills, Steve Reich, Clint Mansell, Ali Farka Touré, Tinariwen,...
What is the song you liked the most lately? The album ? What was the last gig you went to ?
Song : King & Cross, Asgeir ( album In the Silence - 2013 )
Album : Angel Olsen, Burn Your Fire for No Witness ( 2014 )
Gig : Tigran Hamasyan
Are you a musician yourself ?
No
Find out more about Yves Budin here :