Richard Wilson was born in Wembley. He now works and lives in London. He is a graffiti obsessed, portrait lover, self taught, using Spraypaint on walls and Oils and mixed media on canvas/wood panels.
This 1st of February, Music On Walls' community voted for its favorite "Music On Walls artwork of 2017" and Richard Wilson received the most of the votes. On this occasion, we had the chance to discuss with Richard about the making of his mural and the connexion his art has with music.
Hi Richard, congratulations for being elected "Music On Walls artwork of 2017".
Could you tell us how the idea of this mural came to you?
It's a series of paintings I'm doing worldwide in various cities when I can find the right walls and locations, which isn't always easy! And also large canvas versions in Oils and Spraypaint.
It's pretty much a way for me to combine all the things I love...Portraiture, figurative work, spraypaint, music, vinyl, classic vinyl cover art, great fashion, iconic audio equipment, and an incredible girl who loves her music. Anyone who knows me knows these are the things that make me come alive, I'm extremely passionate about all the elements included within these pieces and they are a joy to put together and paint.
What is the story behind this mural?
This particular mural has a great story, with many life connections that make you wonder about the Universes powers and Laws of Attraction!
To start with, the Bronx is the spiritual home for me of my loves, Graffiti, Art and Music. I can pretty much trace back all the things I love to the Bronx. From seeing Style Wars for the 1st time as a kid in London in 1983 (I think) and immediately starting to try and write graffiti and get markers and write my name around. To also falling in love with the diverse music that exploded from there in the same period as the Graffiti in the late 70s early 80s.
So I was in NY for a 3 day trip in September 2017, to try and find a wall (at that point I didn't imagine would be in the Bronx) and also to see my friend Louie Vega (Grammy award winner and 7 time Grammy Nominee DJ/Producer from the Bronx) DJ at his Wednesday night residency at Club Cielo and also his band EoL Soulfrito play live on a boat cruise around the Hudson.
While I was on my way from London to NY I reached out to various Instagram Street Art Photographers to see if they could get me some leads to find a wall. Sarah (@catscoffeecreativity) was super helpful and led me to Noah (@501seestreets). Noah curates many amazing Art Projects around NY and secured me this wall... IN THE BRONX!!! (WOW). So me and Noah met with Jeff Fox, the building owner, to discuss my ideas, Jeff is an artists dream in terms of Wall owners. He is so into the art in all its forms, he gave me totally free reign, he is truly passionate, as is Noah about the impact great art can have on its surroundings.
Originally I had planned to try and find a wall, and return to NY another time, but we just thought lets do this!
Then it comes to the model in the piece, this is an amazing incredibly beautiful Woman and Soul called Kamala Jefferson who lives in NY, she is a DJ and has her own weekly night playing exactly the same music as I love. We had never actually met properly but knew each other from being into the same music scene. I had already sounded her out about musing for me if I can find the right wall and she was in. So I call her up and that day I go to her place and shoot the photos that I used as reference for the painting, the records are hers, the SL-1200 is hers. Her roots are deep in this music, her father was a Jazz musician. We took some amazing shots, so I stayed in NYC and missed the flight home, got an AirBnB near the wall, hooked up a scissor lift, got all my paint and started!
Over the next 2 weeks I fell in love with the Bronx, the space, the people. I was welcomed and showed love like family.
The music I painted on the wall is literally a soundtrack to the streets. Out of apartment windows, cars, I can hear these songs. Salsa, Hip-Hop, Disco, House music. As people passed by, they all know these songs, these exact record covers! People would shout up to me 'YOOOO YOU PAINTING HECTOR LAVOE!!! before I had even finished him because they knew the cover!
For me it's extremely powerful when you can paint something in a community that the people can relate to, it becomes more than just great art to look at. Younger generations are asking me questions while I painted, "who are the records by?" And some might investigate, and discover a sound.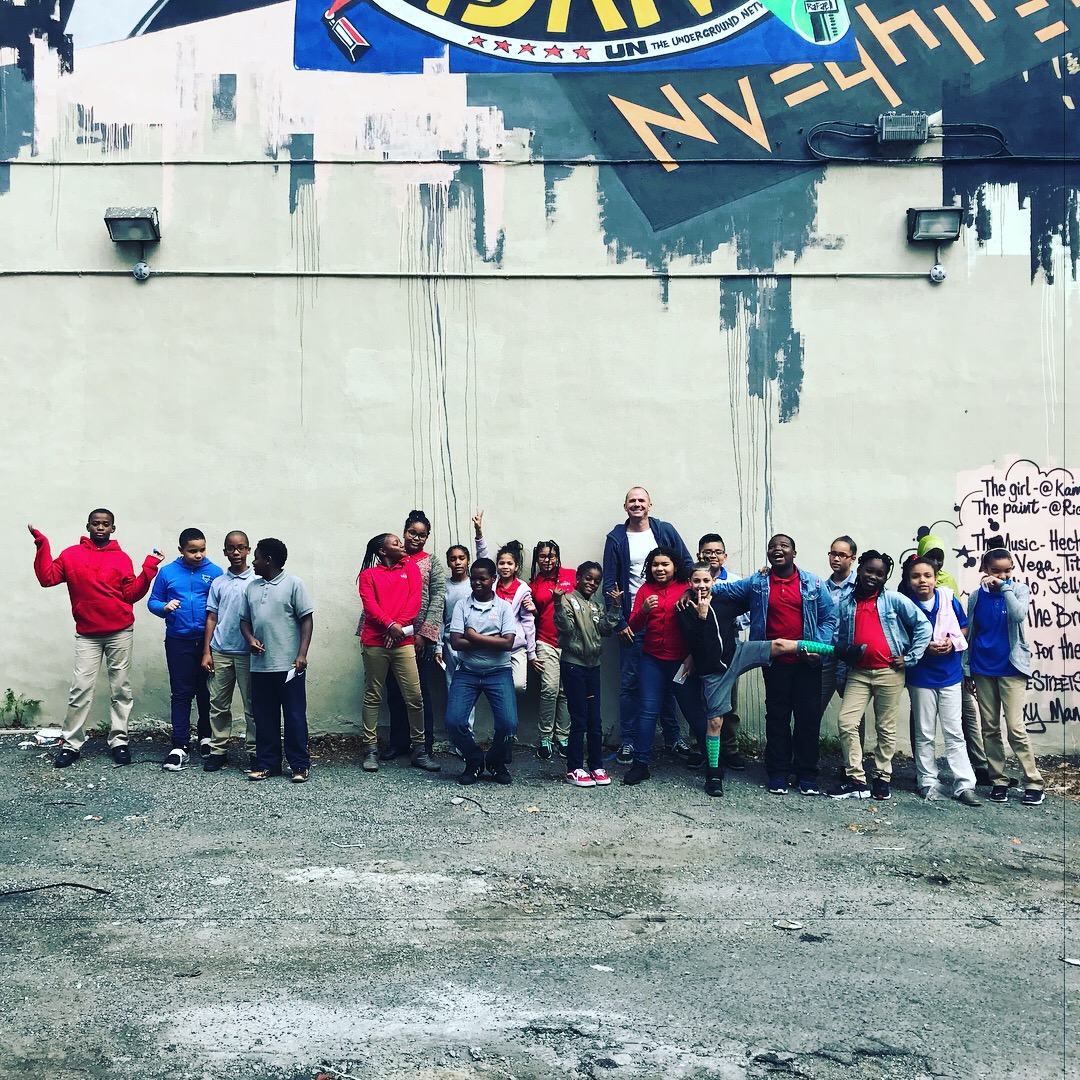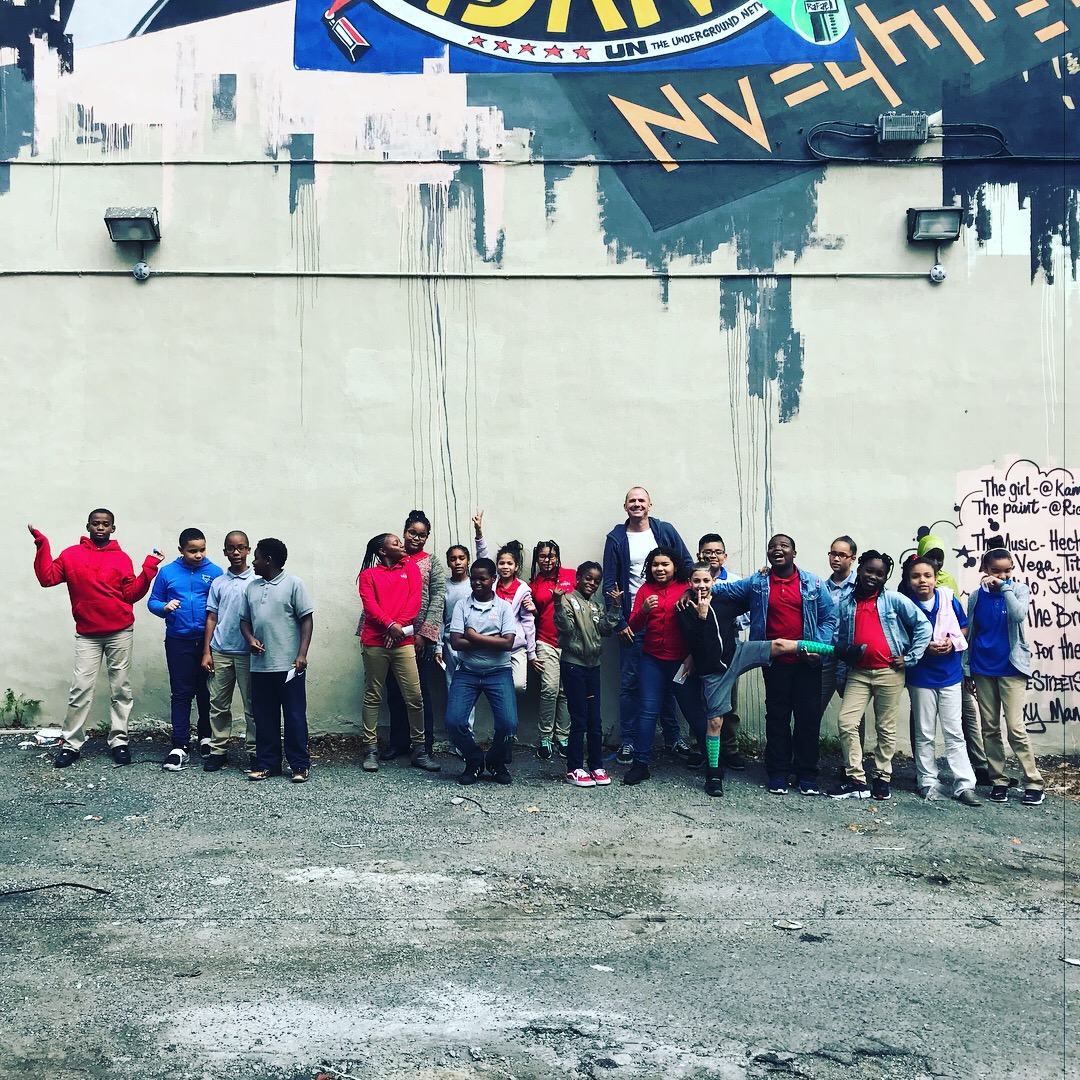 Kendra Grady an Art Teacher at a local school brought along some groups of her classes to come and see the wall, and talk with me about it.
I mean, things like this are what really make wall art so special. I have made friends for life, and even though we come from different places and even cultures we find common ground and more.
Art on Walls can make such a positive impact, I don't know if I've had a better example of all of this with any other wall I've painted.
Older people became emotional, many of the records and songs represented here were and still are the soundtrack to their lives. They have fallen in love to and lived through these sounds.
It's a constant reminder for everyone who passes the wall everyday how much the Bronx has given to the World. And a constant reminder that the best reasons to create are just because you feel it, and it makes you happy, and that even while living in a place and a period with not much going for it from a financial point of view, the creativity within can still be rich and reach the World.
How did the connection with music come to life in this project?
Well the connection was with the records I chose that are specifically related to the Bronx, but the also the great thing is that these are records I own and listen to. This is my Sound.So I chose something from different genres within that.
So you have KRS-ONE, representing Hip-Hop and from the Bronx,
Hector Lavoe, representing Salsa...The King of Salsa music, and the connections keep coming because Hector's nephew is Louie Vega, himself from the Bronx and a huge part of the Bronx's musical heritage, taking talent and creativity from the Bronx to the World. Louie is represented here by the Hardrive record, which was most famous for the 'Deep Inside' track which has been a club anthem for over 20 years now and recently sampled by Kanye West.
Also there's Jellybean Benitez here, who went on to produce hits for Madonna amongst many others.
There's a Candido record here, and this represents the Disco sound and a Huge New York City record.
And of course the Latin King Tito Puente.
With all the artists featured there are connections between all of them, they have either worked together, been inspired by each other, family and friendships and all of this incredible music also inspiring me to create in my own way, through art.
You can listen to Richard's favorite tracks of each of theses music artists below
How is the importance of music in your art and in your life?
Music is particularly important to me because I wouldn't want to live without music, it's my life. I get my biggest joys from Music and somehow without even thinking everything I do can connect back to the music I love.
What is on your playlist in 2018 (top 5)?