Pam Glew, is a contemporary British artist, known for her unique bleaching technique on vintage fabrics and flags. Antique American quilts, brocade and old jeans are dyed black and painted freehand with bleach. By painting onto vintage textiles, the artist plays with our notion of idols, patriotism and the culture of heritage. The portrait slowly develops in the painting process resulting in an image emerging from the cloth.

Hi Pam, today MoW selected 5 of your artworks inspired by music, can you tell MoW why you chose to create artwork about those musicians ?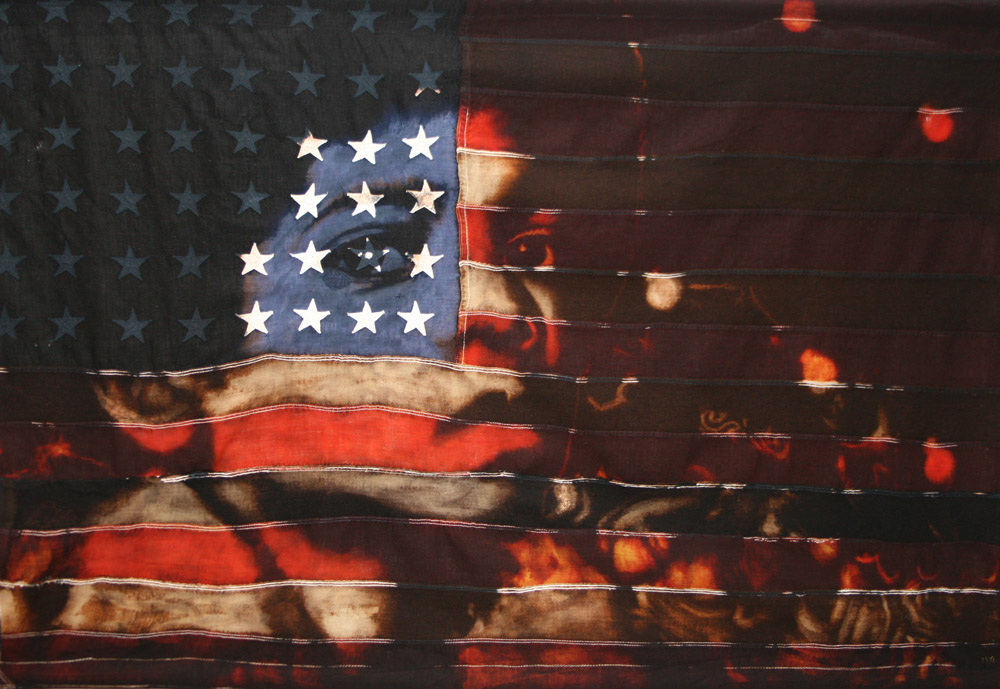 I always listen to music in the studio, and I fell like music feeds my work. A few years ago I made a series of work called 'Circus' which focused on musicians, and cult icons and I represented them as if they were all actors in a travelling circus, lots of dripping mascara and melancholic faces. Since that series I have been asked to make a number of commissions based on musicians. The Biffy Clyro and Bruce Springstein were all private commissions. I love working to commission, because I know that the piece is exactly what the person wants, and both they and I get excited about it. I enjoy working on subjects that are both high and low art, for me its all interesting, I've painted everyone from Paris Hilton to King Oliver's Creole Jazz Band, and enjoyed them all. I'm currently working on a Tom Waits piece on a vintage American flag.
Why is music important to you and your art?

When I was a teenager I was in various rock bands, and around the age of 18 years old I remember making a choice between pursuing music or art. Thankfully I chose art, I'm a much better artist than I would ever be as a musician. But I still need music in my life. I need to listen to it while I work, as painting and sewing can be kind of lonely pursuits, also I get inspired by lyrics. I often get commissioned by musicians, Goldie has a large Jean-Michel Basquiat and Bill Wyman has a union jack I painted using Terry O'Neills portrait of Jean Shrimpton and Terence Stamp, and I've made artwork for Red Bulls Music Studio, I think music and art are quite closely connected.

If you had to choose between the artworks presented today, which of your artwork would be your favourite ? And why ?

Of all the artwork I have made based on musician I think The Blondie is my favourite. The pattern, the target and the simplicity of the composition that works for me, I need to keep reminding myself that sometimes less is more.

Can you tell MoW more about the techniques you used. How old is your technique? How did it start? How long does it take you to make an artwork ?

I start with a fabric, it might be vintage, or readymade, for the Blondie piece I made the textile from scratch. Recently I've been using American quilts with patterns that remind me of 1960s style pop art. I dye the textile black (or a dark colour). The black cloth is dried and ironed and I paint in reverse in a way. I use bleach to take away the black dye, which reveals the colour of the original textile underneath. Each piece is bleached, dried and ironed about 10 times.
Do you have plans on creating new artworks inspired by music ?
Right now I'm making a series of work based on the idea of the 'hotel room', so I will be looking at both films set in Hotels, and also musicians that played, lived and died in hotel rooms, I will be avoiding the really obvious subjects though and trying to cover new ground with musicians and lesser known actors and artists who perhaps haven't been referenced so much. I'm looking for the slightly obscure subjects.

Do you listen to music when you're working ? If so, what kind of music ?

I always have music on in the studio, bands like Queens of the Stone Age, Foals, & Mumford and Sons. To set the mood to a series of work I will pick a certain kind of music, for Beautiful & Damned series I listened to a lot of jazz. Often the Doors gets played in a loop, also Ian Brown, Nirvana and Sonic Youth. I like female vocalists, as my work often focuses on women, I often get a lot of ideas from listening to Tori Amos, and singers like Sarah Gillespie and Nataly Dawn. It depends who is in the studio, as when I get busy I might have assistants working with me, so we have 'iPod wars' and I find myself listening to my assistants iPods, some of which I like a lot. My previous assistant was into obscure grunge and noise bands, my current assistant is into indie, and my summer assistant, who is just finishing Uni, prefers pop and Radio 1 and has a hilarious hatred of Jake Bugg. If in doubt I stick on XFM.

What is the song you liked the most lately? What album ? What was the last gig you went to ?

My current favourite song is the new The Kooks 'Down' I like their new sound.
Also Queens of the Stone Age's 'My God is the Sun' always gets turned up loud.
Favourite recent album would be Arctic Monkey's "AM". The last gig I went to was Queens of the Stone Age in Wembley Arena. Awesome.
Are you a musician yourself ? If so can you tell MoW more about your music projects ?

I'm not a musician anymore, but I'm married to the drummer of 15 Litre, who are a progressive heavy metal band. He makes websites by day, and as he is a musician himself he often makes websites for other bands, singers and musicians, like Antonio Forcione and Sarah Jane Morris. We are both passionate about music and my toddler enjoys playing the xylophone quite badly and singing Twinkle Twinkle little star at the top of his voice, so there is never a quiet moment.
Pam is exhibiting in the '7 Deadly Sins' exhibition at the newly opened Unit 7 in Seven Dials.
7 Earlham Street, Covent Garden, London, WC2H 9LL.
Open daily from now until May 15 2014.

Watch the short film about the sin of 'Pride' made by The Unit London, featuring Pam Glew and Jake Hold. The short film was directed by Chas Apetti, of Lost Boyz productions, who has previously shot Tinie Tempah and Tinchy Stryder.
New work has been made specifically for the exhibition by a number of cutting edge artists, including Ivan Alifan, Fabian Ciraolo, Tom French, Pam Glew, Carne Griffiths, Ryan Hewett, Mr Jago, George Morton-Clark, Rowan Newton, Carrie Reichardt, Ben Slow, SNIK, Mason Storm, MATOX, Kristian Von Hornsleth and Jake Wood-Evans based on one of the 7 Deadly Sins. Find the catalogue online here


Find out more about Pam Glew here

www.pamglew.co.uk/
www.facebook.com/pamglew
www.instagram.com/pamglew