Mike Maka is a painter who works in a variety of media mainly on walls, canvas and illustration on paper. He has travelled and created work around the world, painting the Berlin Wall to the River Ganges. At 20, he received a scholarship to study art in New York, which lead to working as a bike messenger for 10 years in 10 cities, and leaving his mark on many walls. An active member of Everfresh Studio since 2006, Mike has exhibited extensively through Australia as well as group shows in Brazil, Japan, Miami and New York, and has works in private and public collections locally and abroad, including aquisitions by the National Gallery of Australia, Canberra. His work is preoccupied with the interface between man, beast and machine. Presenting a visual riot that stimulates the mind, Mike's art conveys an imperative message to those confined in the concrete jungle to stay connected to the animal within them that lives in the natural world. He is based in Melbourne Australia, but has been known to wander in other dimensions.
Hi Mike, today you selected for MoW 5 of your artworks inspired by music. Can you tell MoW how did music inspired them ? What was the music behind them ? What inspired you to create such pieces?
Pink Cat : painted in Miami, Wynwood arts district last december 2013 ,
I wanted to do something quick on a big wall that guys from Australia were painting, this day was really hot and humid, I painted it after not sleeping the night before, swimming about 8am at the beach , a big bad american breakfast, some LSD after that about 9am ,
I remember putting some heavy dubstep thru my headphones to paint this cat lady, it was uplifting, dubstep to me is the opposite of relaxing. I dont take acid that much but it was a whirlwind 2 weeks in Miami.... and I wanted to get thru the not sleeping... almost an experiment of what came out. I think I gave myself 2.5 hours to paint this before going back to the another big wall.
Ive painted a few female figures with Cat heads or animal heads, which is an ancient mythical concept of Egyptians + Central American and many other native cultures, I like how the female form is so powerful and sexual, but it also has a weird element, and somehow cross your brains wires regarding the rules or mechanics of attraction.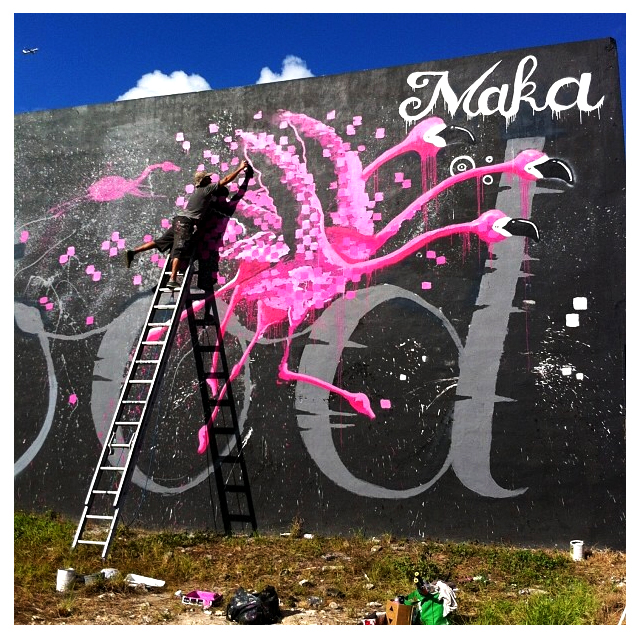 The flamingo wall I wanted to represent something of the area, and Miami has a lot of advertising with flamingoes This building is a womens shoe company Bertinni, family run for 30 years, and their logo is pink + black, they bought a whole lot of pink paint at my request, and I was thinking of some kind of graceful animal, and music that matches, so when sketching this up I was listening to some classical, I like the blood curdling stuff, like Clockwork Orange's Alex's obsession with Beethoven, but I also like Rachmaninov, and some Mozart pieces.... I do like some relaxing classical and piano like Eric Satie, but not to smash out big walls.
My friend Sookie made this video, and chose some crazy uplifting music... which gives a certain epicness to his video (Watch it below)
I remember when I was in University, studying illustration, there was some graphic design combined classes, and an older guest speaker came in to give a talk about the relationship of music to magazine layout, which seemed odd at the start, but it was quite profound,
We had studied a lot about fonts, a week of letter spacing, then word spacing next week, then paragraph spacing and page layout, then multi page layouts, which most of I found fairly boring. Anyway this guy played some Mozart I think, and went thru the pages of a fictitious magazine with blocks in situ for where images and text would sit , and would point out the relationships of the music to the layout : the body + heavy parts to some structure of the music, columns that brought the document together over most of the magazine were related to the piece, and likewise the highlights of the piece, the fluttering here and there, were how he places smaller images, and breakouts of the structure of the page, to create visual interest, to keep things changing throughout the zine but still unified as a piece of art. I still remember his actions and find myself replicating musical patterns or emphasises on a wall or canvas or drawing. Such as the pixels in the Flamingo long wall, they are kind of like the fluttering treble of a classical piece while the birds' bodies are like the chords spaced across the wall, and perhaps the one large word holds the wall together like a drum beat. I like to think about parts of music when adding things like the pixels, and trying to replicate the balance of randomness in nature as well as its structure.
One canvas piece I added here, Balankanche, has a musical link to it, its a really long story about chasing pyramids in Mexico and underground villages in cave systems. This piece represents a cave in Mexico which the Mayans called the Tree of Life due to the tree trunk rock formation in the middle. The Mayans had strong links with cave systems for water and some kind of living situations as well as part of defence in war times. But while painting it I put on a mix a friend had given me that seemed endless and painted most of this piece in 3 hours.... then checked the track name , which was called invisible cities (ie underground villages). So same day checking ticket prices for Mexico... this funky song came on, a nice driving song wth a fun beat and I checked the song, it was called "Mexican" by Babe Ruth (listen to the song below) so I bought the ticket right then which led to a crazy adventure in Mexico. I'm not that superstitious butIi like to go with the flow, so if there is some influence I'll go with it, stay in harmony, cruise...
I remember when painting those zebras fighting, which was originally a wall done for Laneway Festival, which is primarily a indie rock festival, I figured something strong and graphic would suit, something I could do in a day, that had a lot of energy and action, and would unfold as people went past... it's a bit aggressive but maybe friendly aggression.
Do you listen to music when creating? If so, what kind of music?
I often listen to electronic music, and find a relationship between some classical and electronic, the obvious being Kraftwerk. Electronic music is great to put on for long periods if it something I'm into as a vibe setter, that doesn't absorb my attention, generally wordless helps with this.
I also listen to a lot of funk and hip hop as well, but the majority of music on my computer would be dub reggae, hip hop, rock bands, then a lot of other stuff...
I love rock but not specifically indie, I prefer stoner rock, psychedelic rock, heavy metal and classic bands like Led Zeppelin, Hendrix, John Lennon in all his styles, White Zombie. Recently discovered this stoner rock band called Graveyard, from Sweden I think, I put them on a lot...
I also love fusions of music styles , right now on shuffle just came on Saul Williams, who put on a wild live show... some kind of electronic hiphop hendrix. I see fusions as the future I see, there are so many sub genres now with the proliferation of the internet + our ability as humans to absorb and adapt from multiple influences and have multiple personalities. I love this dj, Gaslamp Killer, he picks some amazing tracks to join together, and gets very animated when playing his music. He finds an ability to straddle multiple genres from dubstep to rock to hip hop anthems...
Why is music important to you and your art?
For me music is integral to art, it influences how the image comes out, so sometimes I choose the music to suit the piece, and sometimes the music chooses or influences how the piece turns out.... Often I go thru nearly the whole day with music playing. When I leave my house with headphones on while riding my bike, when I'm at the studio, when I'm driving, and painting wall always. One comment a trombone player in high school said when defending being in the school band was music can define any human emotion, and if you think about movies, every scene could have a sound track to suit, so I find I'd listen to dub reggae a lot as it makes me happy. But I change a lot, I used to think that I liked some part of every genre except country music, but then I saw Graveyard Train, and those guys were funny. Since then I've opened up my mind more but theres' a whole lot of country I have no time for.
I've painted at Rainbow Serpent festival a few times, which is great as the people viewing the work are generally high or in their freaky element somehow. So it allows you to experiment and get freaky. I have collaborated with Bryan Itch and Dem189 at Rainbow, both not precious about interaction but have clear visions. ( On the left Orange Rhino Triangle mural - collab with Dem189 )
The main musical style of this festival is Psy Trance, which I sometimes listen to when I need something uplifting and I want to work fast. A friend once said that if you dont like a style of music, it all sounds the same, so for example people that don't like psy trance, it all sounds like a broken machine, but people in that scene have their opinions and sub genres etc.
For me it seems to suit the high times, which can't last that long, and that's a 5 day or more festival Not diverse enough for me, and I feel that genre sounds like people letting the machines dictate the music, I prefer electronic music made by musicians interacting and feeding off each other, this is similar to collaborating for me with other artists... which can help you develop and learn, but more importantly it gives you a unique piece of art in the end.
Can you tell MoW more about the techniques you used. How old is your technique? How did it start?
I started painting when everyone did, in kindergarten, so I've always been interested in art, but it wasn't until 27 that it became a full time job. In my teens I messed around with graffiti and different forms of street art, but always did drawing and canvas stuff before and thru these years. It wasn't until I was 20 and living in NYC that I did open up my mind to big walls, and I think when I was 23 I had some kind of breakthru with using aerosol when a friend gave me 12 cans of a quality graffiti paint, I think Montana. Before then I was always using cheap paint or scraps which is funny, as now I use mostly acrylic on walls and integrate cheap cans for their drippyness, in general I use quality stuff for longevity though... Lately I've been getting a lot of work doing live art the last few months which has been fun. One rememberable one was my birthday in Miami at a night club in december :
This was a Miami club where they only let good looking people in, or so it seemed and I was right next to the dance floor, which started to get packed towards the end of the canvas. I was thinking these flower lips would suit the event, lots of colour, drips, heat, passion, melting, action, motion, emotion...
How long does it take you to make an artwork ?
The last few years Ive tried to create artworks, a wall or canvas, all on the same day. So that whatever emotion or idea or concept I am thinking about all gets out in 1 session, when I have canvases half done, sometimes they sit for months. and I just paint over them... so picking the music to get the job done is carefully done.
I painted this Kangaroo a few weeks ago at an event in Prahran in a bout 3 hours, I was listening to heavy metal and Rage Against The Machine, Faith No More, Nirvana (Bleach album), and Black Sabbath, partly this style of music as it totally drowned out the background noise, but also to work fast as I wanted to get this done to get to a reggae party that a friend was having his going away event at. Heartical hifi, so not sure the exact meaning of this super muscly roo, smoking a durry as he's saying fuck you on behalf of the indigenous people, or perhaps on his personal behalf. I prefer if people question the meaning rather than it being obvious.
Do you have plans on creating new artworks insipired by music ?
I have a plan on curating a freak show in a big basement or an abandoned building, which is more an experience that a look and purchase event, and getting as many friends that I can who have a freaky style to install or curate an area, paint a wall, create a sound scape, weird lighting, sculptures, performance, whatever...
I will be painting live at Quartz Faction Launch on saturday 14th June at the RUBIX Warehouse Venue.
What is the song you like the most lately?
Lately I've been listening to the "Drive" soundtrack by Cliff Martinez, really dreamy and makes me visualise well.
Are you a musician yourself ? If so can you tell MoW more about your music projects ?
Yeah I play a bit of music, my mother taught me piano from 5 to 10, and I hated it with a passion, we couldn't get along, but I picked it up again at 17 as there was a grand piano next room to my bedroom, music is my mothers passion, she lived in Vienna for 4 years playing 8 hours a day apparently. But at 30 started to make 6 kids, most of us play at least a bit. My older sister teaches piano, guitar, and djembe drums and my brother is awesome at guitar and drums, and studies fulltime music right now at uni. He specialises in metal but is in a funk rock jam band called Zod Thorax, they rock it. We have talked this week about doing something together, me on keys, maybe a sampler mpc type of thing, him on drums, and another brazilian mate who wants to spear head it, some kind of dub reggae beats, I could see it being like a French 3 piece called High Tone.
I did learn drums to a point of being able to jam, but I haven't played them in years now. I play piano every few days, and one night with a mate lister we went a little crazy painting my piano (see on the right). It's had a few friends paint it now, Rone did the bottom, Heesco and Bailer did some stuff, Jaws, Wonderlust, Civil, Gore, and some other guys are supposed to add stuff...
Makatron will be painting live at Quartz Faction Launch on saturday 14th June at the RUBIX Warehouse Venue.
FInd out more about Mike Maka here :
www.facebook.com/MikeMakatronArt