Born and raised at the jersey shore - Mike Bell's art blends an aura of nostalgia and humor, combined with vivid color and a combination of influences. Japanese cartoons, classic monsters, vintage toys, punk rock, carnivalesque images, MAD magazine, and Big Daddy Roth are among the cultural forces that have shaped his art. The juxtaposition of counter culture imagery with modern day influences are the blueprint for Mike's canvases
Hi Mike, today you selected for MoW 6 of your artworks inspired by music. Can you tell MoW why you chose to create about these music artist ?
I chose these musical artists as subjects because they are iconic figures in modern music. They represent the most brilliant musicians and singers in the history of pop culture. Some are my personal favorites, some are simply fun to draw.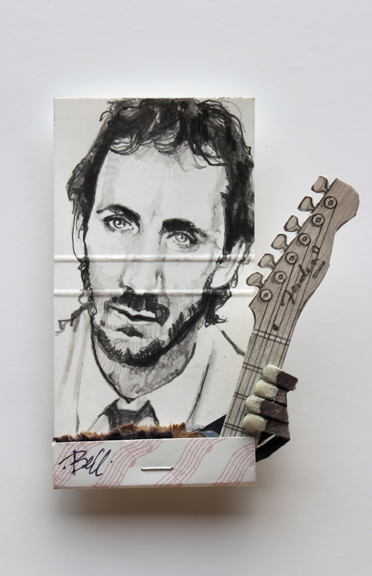 What was the music behind the artworks?
When I am creating a piece of music inspired art, I like to listen to the artist's music. Helps put me in the mood and the appropriate place to help portray them accurately.
Why is music important to you and your art?
Music is the perfect complement to art… It fills the background with an inspirational, uplifting, energetic vibe. It has a variety of moods, textures, emotions and styles – just like art.
If you had to choose between the artworks presented today, which of your artwork would be your favorite? and why?
I would have to say the Elton John ones… because the matches worked so well as piano keys and hands playing them.
Can you tell MoW more about this "matches" project?
I started the match project about 2 ½ years ago. I was sitting in a bar having a cocktail and trying to think of new objects to paint or draw on. Found objects that people toss out that could act as mini canvases. I started doodling on beer coasters, which are cool. Then a person next to me asked the bartender for some matches. I said to myself…"perfect". I did some sketches and then the whole idea came together when I thought to use the matches as hands. Such a simple idea… but it works and people love them. They are fun, cool and inexpensive.
Watch are the techniques you used?
The technique is simply pencil… some soft some hard.
How long does it take you to make an artwork ?
The matches take about an hour

Do you have plans on creating new artworks insipired by music ?
I do… I will continue to do more musicians… I want to do a punk series and also whole bands, like the Clash, U2 and Led Zeppelin. Also a series of Acrylic paintings of my favorite musicians.

Do you listen to music when you're working ? If so, what kind of music ?
ALWAYS! I like rock… The Clash, Bowie, Nick Cave, Social Distortion, The Strokes, The Tragically Hip, Iggy Pop, Tom Waits, Rev Horton Heat, The Vines, Rob Zombie…

What is the song you liked the most lately?
Peter Murphy "Uneven and Brittle"
The album ?
The Tragically Hip "Fully, Completely"
What was the last gig you went to ?
Are you a musician yourself ?
I play some guitar… just for the fun of it
Find out more about Mike Bell here :