Kelly was born in Melbourne and studied Graphic Arts in the 80s, when light boxes and squeaker textas ruled! She moved to Sydney in the 90s whilst attaining an Arts Degree at the National Art School in Darlinghurst. Her work is largely based on circumstances that surrounded her when she was young, as she was born to a family of great iconic imagery and pop culture of the 20th Century. Hence, Kelly's work is fundamentally grounded in graphic pop culture, that she was, and still is encircled by. She now resides in Byron Bay and when she isn't crafting and painting, she works seasonally on the 'Splendour In The Grass' music and arts festival.
Hi Kelly, today MoW selected for 5 of your artworks inspired by music. Can you tell MoW what was the music behind the artworks ? What inspired you to create them ?
To be honest, I wasn't aware that I had created so many works based on music, until I looked through my "back catalogue" - Subconscious I guess? I have worked in the music industry one way or another, since leaving high school. I've had the fortune to have seen so many amazing gigs, and I never tire of seeing new music and I hope Im going out to gigs when Im in my 80's!
"Michael YU no stop when U get enuff?" is a piece I did for a group artshow "TRIBUTE TO MJ'S BEST FILM CLIPS" currently at 19 Karen (The Sofitel Gold Coast)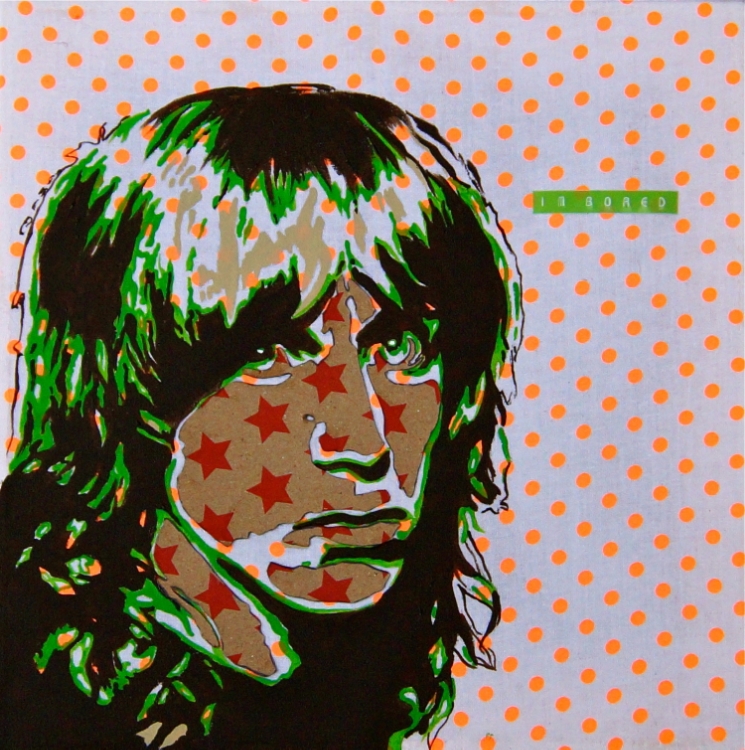 Why is music important to you and your art?
Music has always played a huge part in my life. I have been lucky enough to have seen gigs all over the world, and as Henry Wadsworth Longfellow says "Music is the universal language of mankind" - you can be in a room listening to music in a foreign country, but everyone is on the same page. Music is a refuge – it embraces all cultures and sub-cultures – you can always find somewhere to fit in.
If you had to choose between the artworks presented today, which of your artwork would be your favorite ? And why ?
Ooh, unfair question! That's like asking "what's your favorite song?" I do love the Scarecrow from the Wizard of Oz. That piece was shown in an exhibition in Melbourne. Its a reference to "If I Only Had A Brain / Insane In The Membrane" Cypress Hill of course…
Can you tell MoW more about the techniques you used. How old is your technique? How did it start? How long does it take you to make an artwork?
My techniques vary but I mainly work on canvas with acrylic paints and collage. I have no time for oil painting, I'm way too impatient and acrylics work for the graphic nature of my work. I've recently embarked on found object art (not shown here) which were the bread tags and tapestry works. Im having loads of fun with that!
I studied art through the 80's/90's and have an Arts Degree from the National Art School in Darlinghurst Sydney. They were lean times, living on two-minute noodles, but I managed to work weekends at all of Sydneys pivotal live music venues in that time, The Hopetoun, The Annandale, The 3 weeds Rozelle, The Sando in Newtown, The Metro on George St and even the Opera House? I got around….haha
Do you have plans on creating new artworks inspired by music?
I have a group show in the making with some close friends that we are aiming to get off the ground by the end of this year. It has a "broken-hearted cowgirl theme" so no doubt music will play a part, I feel some Johnny Cash coming on.
Do you listen to music when you're working ? If so, what kind of music ?
Yes, I'm fortunate enough to have a studio to myself, so I can listen to whatever I want and as loud as I want. I find that as I start out working on a show the music is kinda soft and in the background, the closer to deadline I get, it gets louder and more frantic. It's like I'm working in a movie or something? My music collection is wide-ranging. I have a lot of shit on my iPod, and some exceptional music as well. I never do shuffle – I'm strictly a playlist person, as my music varies from old war time tunes, reggae, country, jazz and soul to hard core punk and hip hop and everything in between. There is only one genre of music that's banned on my iPod – and it's dubstep – it sounds like a fax machine to me, maybe I'm getting old?! Skrill-ex-crement!
What is the song you liked the most lately? The album ? What was the last gig you went to ?
This track is old, but was seriously under-rated. Triple J had it as a free download a few years back... I still have it on high rotation and it represents all that's gutsy and noble from rap music, beyond bitches and hoe's.
The album I have on rotation would be JD McPherson "Signs and Signifiers". I saw them play at Blues Fest 2013, and instantly downloaded their album - it's a grower. It's nostalgic but kick ass! 4 stars… Here's the whole album :
My last gig was in Melbourne (at the Espy in St Kilda) when I was exhibiting down there recently. I saw Osaka Monaurail with a friend of mine who had seen them in Japan and said they were not to be missed. A nine piece Japanese funk band in matching suits and a front man with an equivalent squeal of James BrownThey were truly amazing!
Are you a musician yourself ?
No, Im definitely not a musician, although I have a rain-man style of cataloguing music in my head. I remember my dad lamenting "if only you took as much interest in your homework as you do with music lyrics and band names," but music has been good to me. I happened to meet my husband many years ago (he was my boss at various music venues in Sydney) and eventually we got married and moved to Byron Bay where we have worked on Splendour in the Grass music festival for the last decade. The secret to getting through all that was:
"It's no good pretending that any relationship has a future if your record collections disagree violently" - Nick Hornby (writer of: High Fidelity)
Find out more about Kelly Sullivan here :