Kai started out as a street artist in LA at the age of 14 when he began a quest to get his father to stop smoking by plastering the city with a series of clever images which he called his "Morons" campaign. He slowly created a buzz within the street art community and concentrated his focus on addressing social issues like consumerism and addictions. By the young age of 18, Kai was becoming more and more known and was asked to participate in a documentary series for Hudson Jeans. This caught the media's attention and he was mentioned in Los Angeles Magazine as one of the forefront street artists of his time. He went on to study at CalArts and Ecole Nationale Superior Beaux Arts Des Paris. His style has been said to be a combination of Damien Hirst, Banksy, Koons, Rembrandt, and Anthony Van Dyke all in one.
Hi Kai, today MoW selected 5 of your artworks inspired by music. Can you tell MoW why you chose those music artists ? What was the music behind the artworks ? What inspired you to create them ?
Well the idea was never really to create music based work. It started when I was young, I was doing street art, pasting things and rechecking havoc in the streets with: Morons, Bankruptcy Express, Lost Values…, and galleries started to ask me for my works. My father started to realize that my art was becoming something very serious, so he pulled me aside one day after school and said something like " I want you to create art forever, but if your going to do this then you have to do it the right way you have to study the past to create in the future." So he got me books and after school he would sit with me and teach me about the art of the past, and then when I was done studying with him, I would go into the studio and create street art work while listening to music, hip hop and rap mainly. Studying Masters like Anthony Van Dyke, Ruben's, Fan Hals … you're studying the history of Europe through art, because the masters painted nobleman, kings, queens… and sitting there with my dad I started to realize that America didn't have this hierarchy… so one day while I was in my studio listening to some hip hop it clicked. These are American's kings, queens, and nobleman and the collection was born.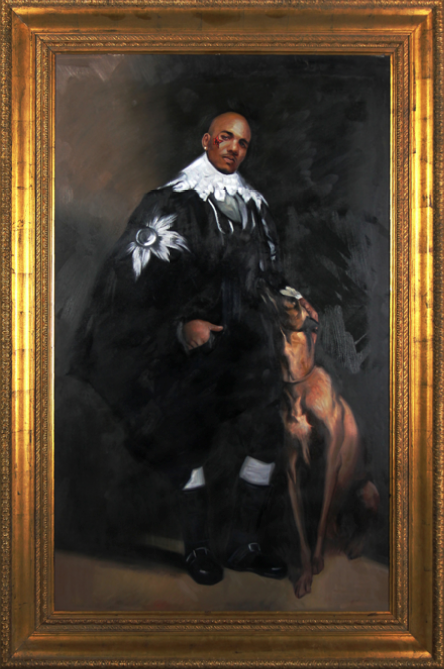 Why is music important to you and your art?
I listen to music while I do everything so its always playing through my mind.
Can you tell MoW more about the techniques you used. How old is your technique? How did it start? How long does it take you to make an artwork?
To get the collection to have the right vibe and feeling I had made sure I got as close to the masters as I could. So I hired two painters to come into studio, who were classically trained in Italy. They were there to make sure all the brush work was prefect. The hardest part was creating the correct balance between everything, every person in collection has a persona and vibe that I made sure capture in every painting. It was actually the hardest and longest part of the process in this collection it was all the decision were made the rest was just busy work.
Watch this video where Kai created an exhibit and placed it in the world's most famous metro station, which is part of the most famous museum in the world, Louvre Rivoli. Kai is the first Street Artist to do this in our recent times adding to the aesthetic and making history in May 2013.
Do you have plans on creating new artworks inspired by music ?
Not really for the moment but you never know….
You said you listen to music while you do everything, so what kind of music do you listen to music when you're working ?
I listen to so many different kinds of music, here are some of my favorite jams
"Soul Vibrations" by J walk
"Money Trees" by Kendrick Lamar
"Doin' It Right" by Daft punk
"Forbidden Fruit" by J. Cole
"Tha Crossroads" by Bone Thugs and Harmony
"Telegraph" by Childish Gambino
"Thinking About You" by Frank Ocean
What is the song you liked the most lately? The album ? What was the last gig you went to ?
I play "Random Access of Memories" by Daft Punk on vinyl almost every day since I bought it a couple weeks ago its like bonding time with my brother we'll drop it in and listen to it all the way through. For songs I like to have a new "favorite" song every week. I think the last time I went to a gig I was at either a G Eazy concert or a Drake it's been such a long time it's a blur.
Are you a musician yourself ?
Yes I am I play the guitar and piano but visual arts been my main focus. Music is another outlet to express myself.
Find out more about Kai here :
www.facebook.com/kai.aspire.art