Jules Muck started doing graffiti in Europe and great Britain twenty years ago. Muck began bombing in New York in the late 90s. She was discovered on a Bronx rooftop by Sandra Fabara "Lady Pink", Muck apprenticed under her for the next 4 years. Muck has shown at Tokyo Big Site, the Bronx Museum of Art, the Weisman Museum in Minneapolis, Phantom Gallery in St. Louis and the Fuse Gallery in New York. She has been published in Ganz's Graffiti Women, Cey Adam's Definitions and both of the Murrays books Burning New York and Broken Windows. In LA Jules Muck has shown at The Pacific Design Center, Lab Art Gallery, Center for the Arts Eagle Rock and Rivera Gallery in Hollywood. Her murals are prominent all over the Los Angeles area, especially in Venice Beach where she lives and has her studio. Her works include a mural on Gelina restaurant featured in Food & Wine magazine and the Main St & Horizon Ave mural that received a large amount of press including a spotlight on Access Hollywood and an article in Newsweek's The Daily Beast. Muck's celebrity clientele include socialite Petra Ecclestone, musician Everlast (House of Pain), actress Lindsay Lohan, 'Stone-Cold' Steve Austin, and LACMA artist Robert Standish.
Hi Jules, today Music On Walls selected five of your artworks inspired by music.
Can you tell MoW why you chose to create artworks inspired by music? The story behind each artwork?
Lemmy Kilmister - I painted a memorial of Lemmy as soon as he died, that night I heard the news and I painted a canvas piece at home. In the morning I went to Time Warp Music on Venice Blvd and painted a portrait of him on the wall there, where I had already done a Lou Reed memorial piece.
Lemmy was from the same place as me in the midlands on England near stoke on Trent. His death affected me because of his influence over Rock and Roll's entire culture and also it came shortly after the death of my close friend Billy with whom I listened to Motörhead religiously. In fact we played Ace of Spades for Billy in the ICU when we took off life support. I got 'No Remorse' tattooed on my forearm as a nod to that album, to Lemmy and to Billy.
Later Dave Grohl commissioned me to paint a 40 ft high portrait of Lemmy on the side of their recording studio. It was great to hear stories from musicians that worked with Lemmy. Last summer I was commissioned again to paint Lemmy for in Heroes We Trust, at the Governors Ball in NYC.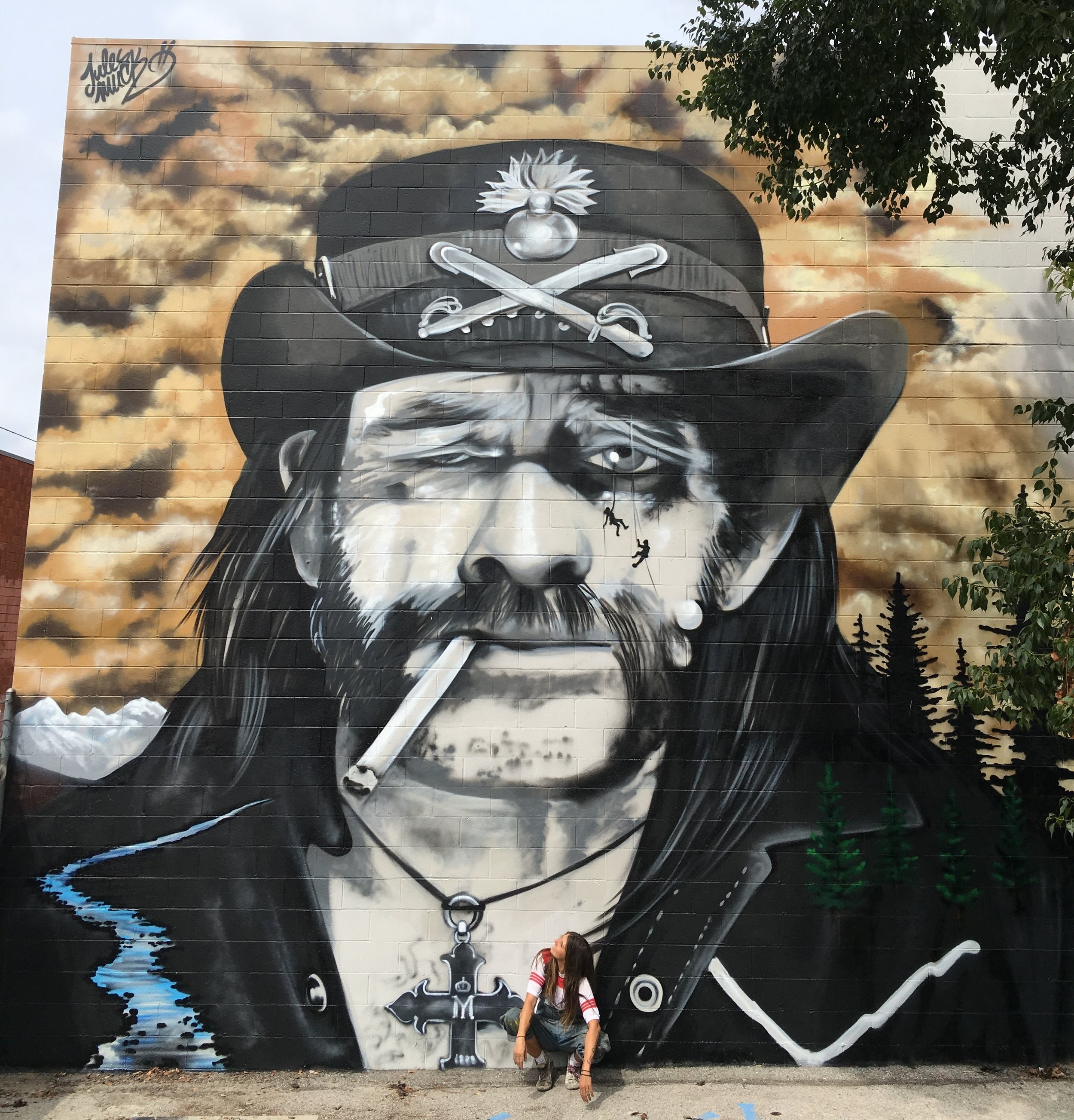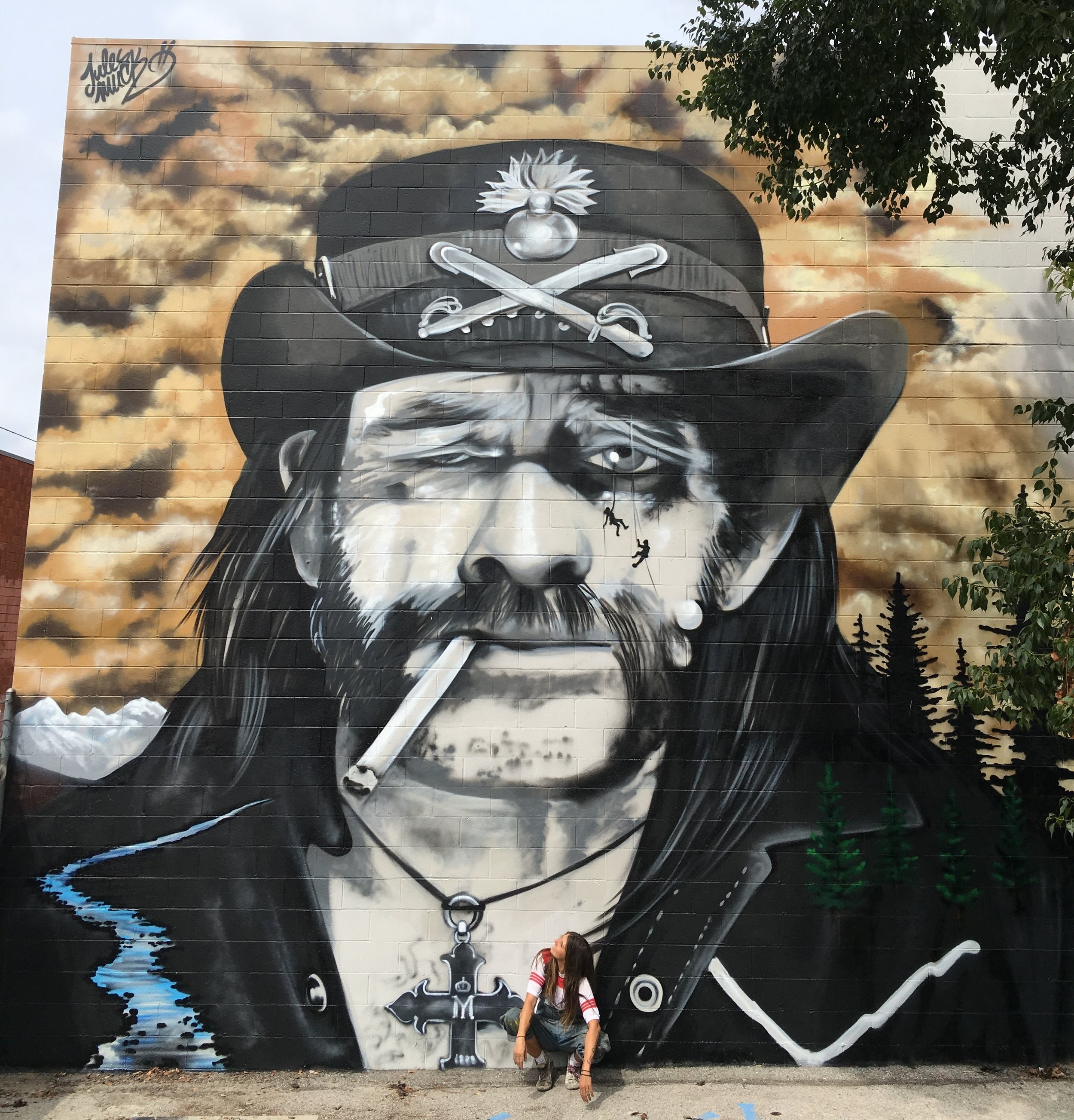 David Bowie - Bowie's death hit me extremely hard. I cried a lot which is not usual for me regarding people I don't really know. I felt that he had carved a path in the world that had enabled my journey to be slightly easier. As an artist, an outsider and sometimes labeled as a freak, Bowie made it ok. And I doubt I could pick just one song from the vast array of amazing beauty he bestowed upon us. For years I had the cassette tape 'Space Oddity" in my old truck and it was the soundtrack of my day. I went immediately to paint a memorial portrait for Bowie the day he died, I painted it through tears. People came up to the wall all day and thanked me or just watched, many also in tears unable to speak about how affected they were. It was a beautiful human experience. Photographers came by the end of the day and shot the mural. The photos went around the world and my Bowie and I were featured in Rolling Stone, on the cover of the London Times art section as well as numerous other publications. I painted the Bowie bolt on cars, guitars and painted Bowie more times than I can remember since then, twice at live events for a Hermosa Beach concert and a Santa Monica pier event. Most recently I have been painting bowies eye with the bolt on the back of a school bus, a van and at an art gallery in Long Beach.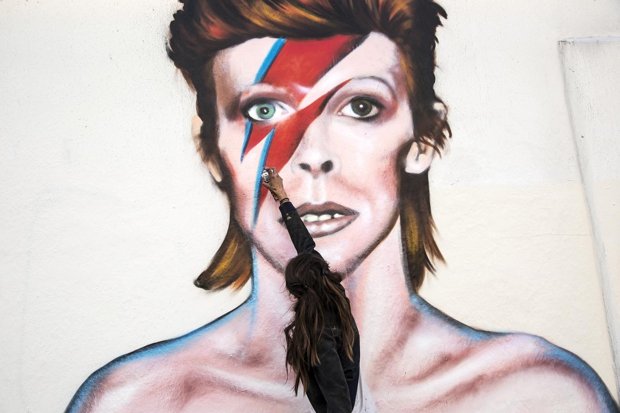 Free Dumb - This mural I painted featuring Jim Morrison, Kurt Cobain, Marilyn Monroe, Sid Vicious, and Janis Joplin. Besides all being great talent all these artists were taken out by drugs. So I named the Mural "Freedumb", as a play on the word Freedom. As I myself have some understanding of the concept of chasing freedom through the use of mind altering substances. I painted this piece when I had about 6 months sober. It was the first piece of art work I was happy with in my early sobriety and with its rapid execution I was assured that I would be able to create without drugs. I looked for solemn reference photos of the subjects as to dictate the mood of the piece, for it is a sad thing to lose so much talent so early on in there lives, the bright colors however shine through the sadness as their beautiful work and stories shines on after their own passing. The colorful pills in the background were the work of my collaborator at the time the artist Mark Hobley.
Notorious Big - I painted this green Biggie years ago in Brooklyn near the projects where he lived. All his music influenced me and motivated me to come up from my own depths. Originally I painted him with a bright pink outline, which faded off after a year or two, so on another trip to NY I changed it to blue and cleaned him up a bit. I have painted Biggie several other times on canvas as well.
LL Cool J - This LL cool J is a photo of Janette Beckman that I collaborated on. Funnily enough before I ever met Janet I had painted a green spray piece based on this photo. So when she asked me which of her photos I would like to chose for a mash up I chose this one. And attempted to illustrate a depth to the person photographed, beyond the upbeat pop sense to the humanity and love behind. The piece has been well received featured in numerous publications and has traveled around the world hung in galleries and museum in NYC, Paris and LA.
Do you have a favorite piece between the ones presented today?
Freedumb because it was the piece that let me know I could paint fast and well without any substances.
Why is music important to you, in your life and in your art?
Music is one of my greatest influences. It brings me a degree of comfort and motivation that I need to survive. I strive to put that into the work I create as well. So that my visual art can bring some comfort and motivation to its beholder.
Do you have plans on creating new artworks inspired by music/musicians ?
Yes, today I will be painting for a new Pixies video under the direction of Paz Lenchantin.
Can you tell Mow more about your techniques and how long does it takes you to make an artwork?
I am very fast each portrait takes several hours at the most. The Lemmy was a few days because of the size. But the Bowie eye took less than an hour.
Do you listen to music when your working ?
I usually listen to music while I paint. I try to play music that best relates to my subject matter, but Leonard Cohen is my standby for middle of the night painting. And Bowie typical in the day. Lately I have been listening the The Slits but it's always changing.
What is the song and album you liked the most lately?
I'm obsessed with the new Pixies album Head Carrier and in particular the song "All I Think About Now"
What was the last gig you went to ?
The last gig I went to was Insect vs Robots at Townhouse in Venice where I did some live painting.
Are you a musician?
I am always purchasing or trading art for musical instruments but unfortunately do not have the time or patience to learn to play. Tomorrow a piano is being delivered here. I have some of the greatest looking guitars but I just lie on my back next to the amp and strum them on my belly. That's the extent of my musical career.
THANK YOU SO MUCH JULES MUCK!
STAY TUNED ON JULES'S PROJECTS HERE :