DAAS is a Japan based American contemporary visual artist. His work is primarily focused on the power of color, balanced design and a representation of animals, insects and humans in a geometric based form.
He is currently in the studio working on a series of paintings titled Geometrics, which have been exhibited in group and solo shows in Osaka, Japan over the past year. In addition to his studio work, DAAS also creates large-scale murals.
Hi Daas, today you selected for MoW 3 of your artworks inspired by music. Can you tell MoW why you choose these music artists ? What was the music behind the artworks ? What inspired you to create them ?
These artists are the first 3 musicians I have painted as an extended part of the Geometrics series. I'm currently reflecting on the people who have inspired and influenced me over the years, whether they are writers, artists, musicians, scientists, philosophers, etc. basically anyone who helped to open my mind and eyes.
Why is music important to you and your art?
I always paint with music playing, it's an integral part of the process. It's funny, but I think I've used it as an almost Pavlovian conditioning to put me in the right state of mind for creating.
If you had to choose between the artworks presented today, which of your artwork would be your favorite ? And why ?
What if 6 turned out to be 9? is my favorite. It was the first time I had ever painted Hendrix and I really experimented with a lot of new techniques and materials to create the painting. It was a big step forward in my process and gave me a renewed excitement for continuing the geometric style and seeing how it could evolve.
Can you tell MoW more about the techniques you used. How old is your technique? How did it start? How long does it take you to make an artwork?
I generally paint on wood panels, using acrylics and a variety of materials and tools, such as, plaster, modeling pastes, trowels and brushes. This technique is relatively new for my fine art and it stemmed from a desire to add more physical dimension to the paintings. On average, a painting will take me about 2-3 weeks to complete and most of that is due to the preparation of the substrate and texturing.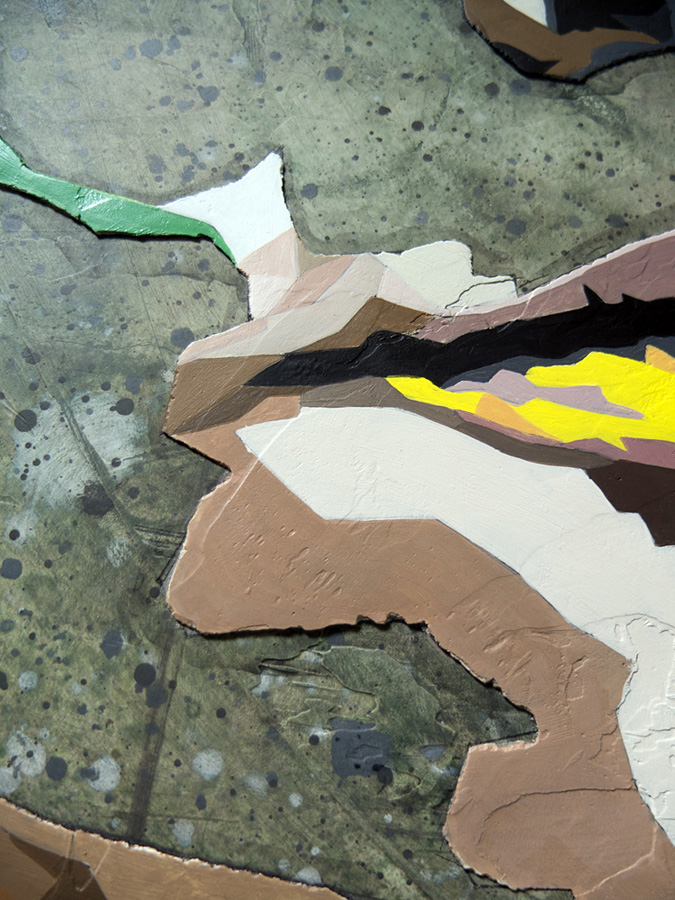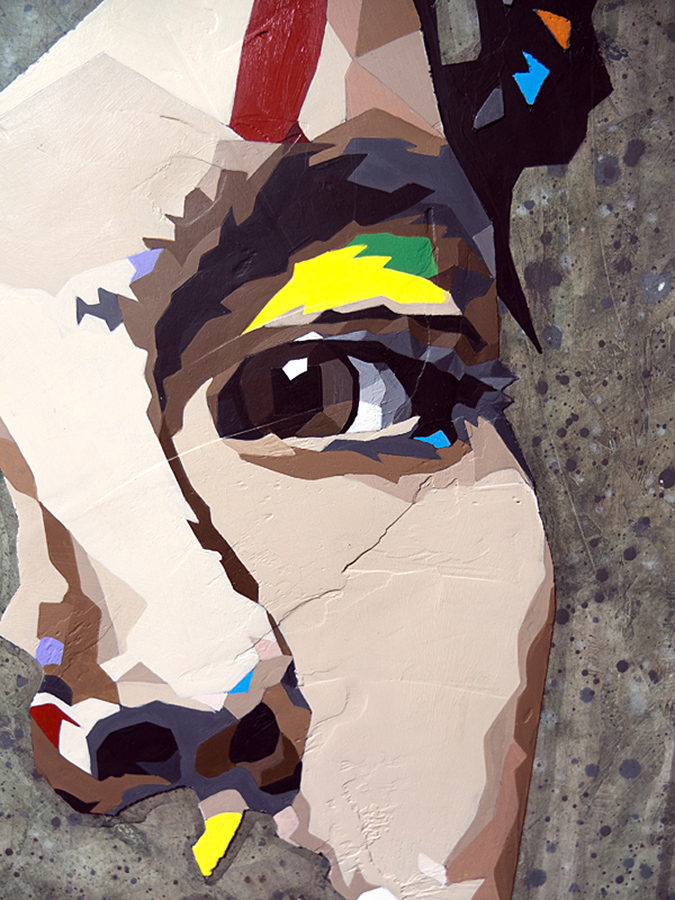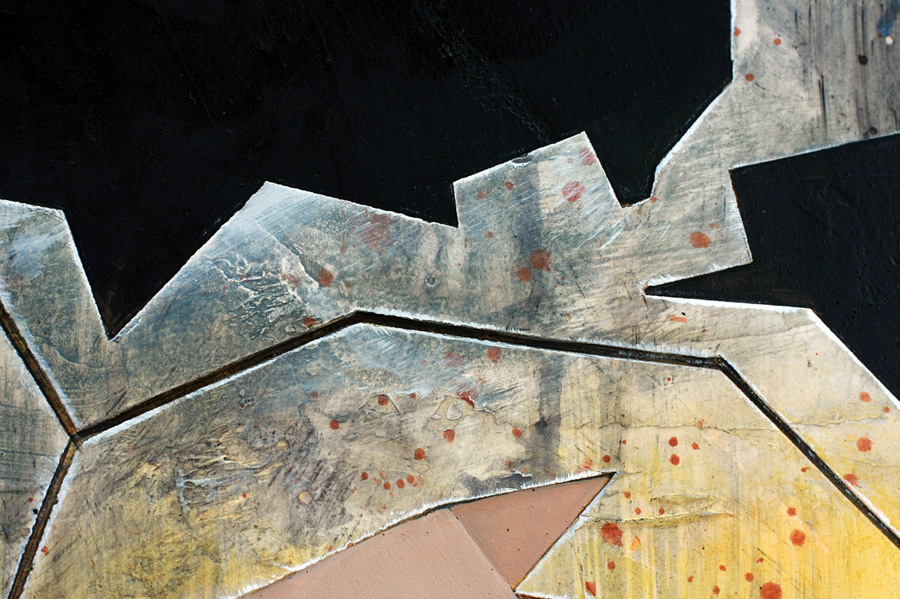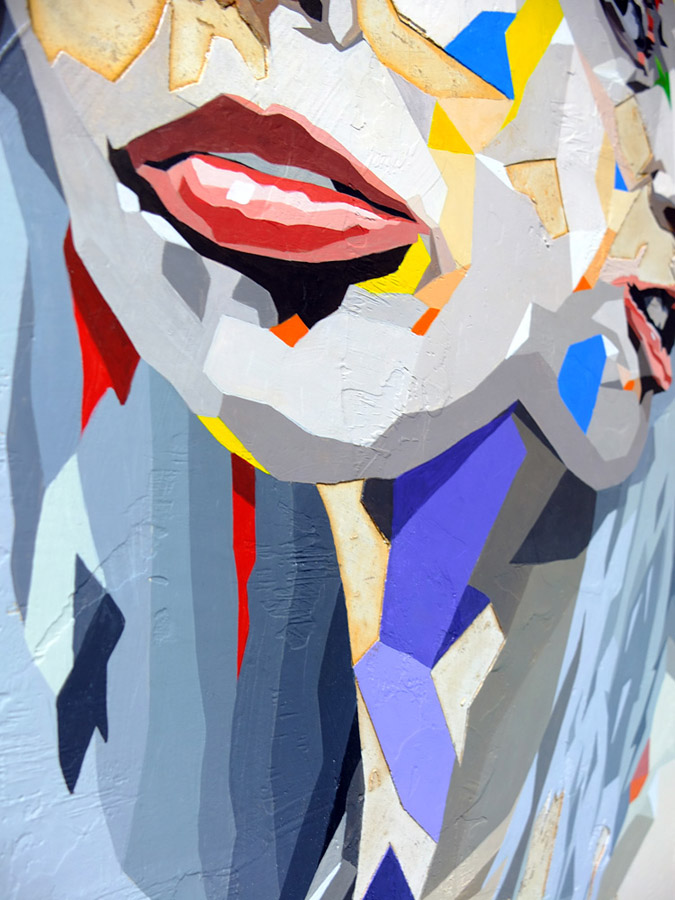 Do you have plans on creating new artworks inspired by music ?
Absolutely!, I've got a lot of sketches for new ones, such as Bowie, Pete Townsend, and Thelonius Monk to name a few. They are basically just in queue until I get other work finished.
Do you listen to music when you're working ? If so, what kind of music ?
I usually stick to one genre of music per painting session, but each time is different, it really depends on my mood. One thing I noticed, is that when I started doing the Geometrics series, I was listening to a lot of electronic music in the studio, particularly Jon Hopkins, his music seems to lend itself very well to colors and geometric shapes. Lately, I have had a playlist mixture of MF Doom, Binary Star, The Books, Tosca and The Helio Sequence playing in the studio.
What is the song you liked the most lately? The album ? What was the last gig you went to ?
Would That Not Be Nice from the album A Thing Called Divine Fits by Divine Fits. It's an older song, but I'm really enjoying it again lately.
The last gig I went to, was to see Charles-Eric Billard in Osaka, Japan.
Are you a musician yourself ? If so can you tell MoW more about your music projects ?
Unfortunately, I am not gifted with the ability to play music, but I am a huge admirer of those that can express themselves through sound. In fact a lot of my very good friends are musicians and I would love to give a shout out to a few of them for inspiring me all these years, especially Lauris Vidal, Beartoe, Gar Bailey, Paleface and a_scissors.
Find out more about DAAS here :