Alice Pasquini is a multimedia artist from Rome whose affectionate street art explores the brighter side of human relationships. Alice travels continuously and her preferred canvases are city walls. Both a street artist and painter, as well as an illustrator and set designer, Alice has developed different threads in her research, from narrating feminine vitality to manipulating the three-dimensional possibilities of her work. She moves from urban explorations to installations using found materials. Sydney, New York, Barcelona, Oslo, Moscow, Paris, Copenhagen, Marrakech, Berlin, Saigon, London, and Rome are some of the cities where her work can be found.
Hi Alice, today Music On Walls selected four of your artworks inspired by music. Can you tell us why you chose to create artworks inspired by music?
All of my works begin with feelings and the relationships between people. So music is a natural choice in places where music is really present on the streets, such as in places like Buenos Aires or Cape Verde.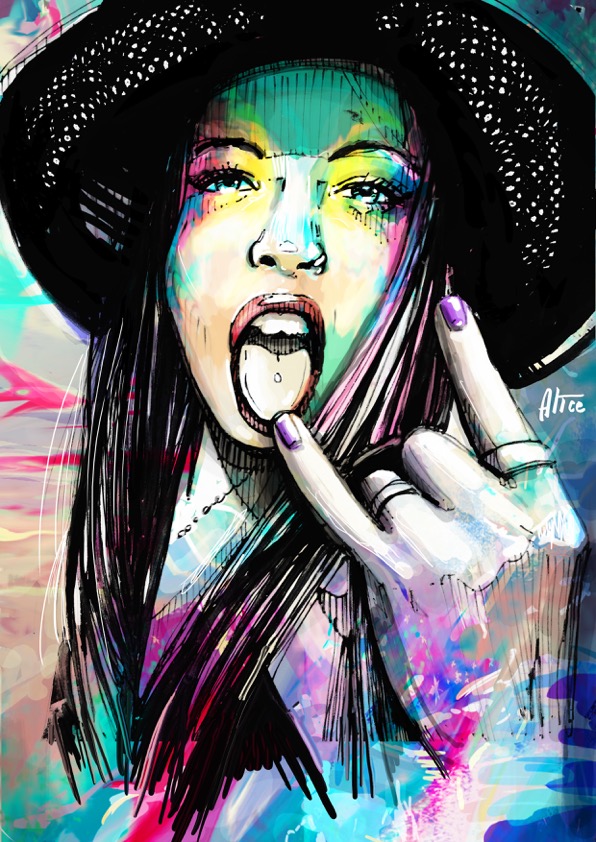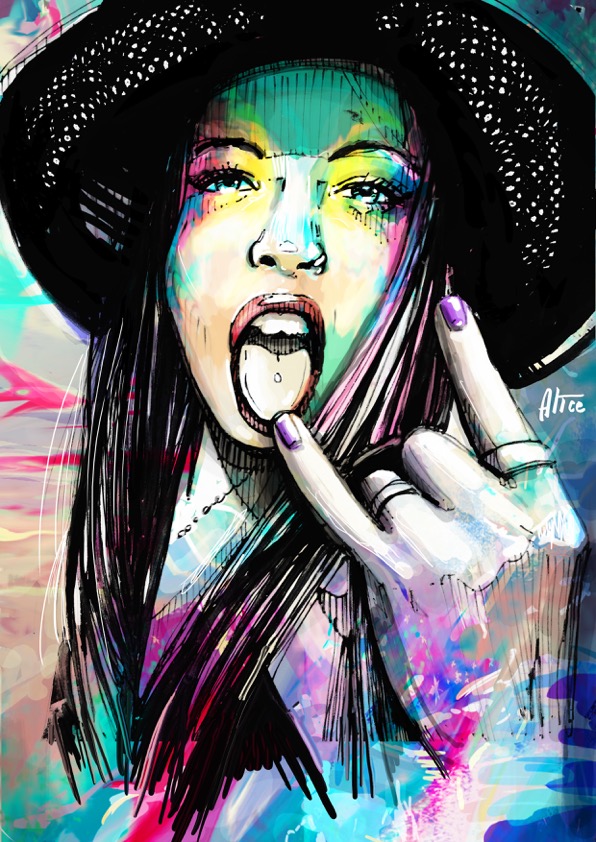 Did any songs inspired the artworks presented today?
As an illustrator I've often worked for music festivals — rock, blues, jazz, and folk. The inspiration doesn't come from a specific song, more from the representation of a genre of music and its spirit. I've been going to music festivals since I was a child with my dad and then as a teenager I worked in the same organization as him. I've always been fascinated by the special connection between people when they come together for the strong emotions of seeing live music.
What is your favorite artwork between the ones presented today?
My favorite is one of the first posters I've made (see right). It was for a festival called Mojo Station Blues festival that I remember as a beautiful experience
Why is music important to you, in your life and in your art?
I've been studying music since childhood. My mother said that the important thing in life was to speak more languages and to be able to play a musical instrument. My dad plays guitar, my sister the sax and my family house has always been visited by musicians and collaborators.
Do you have plans on creating new artworks inspired by music ?
I've worked with various bands creating rap, reggae and even metal disc covers! I'm working on making a double vinyl cover at the moment.
You have created a collaborative experience "What Goes Around" with a musician (and dj) DJ Gruff, a previously unreleased work that fuses together a variety of techniques to create a layered, final effect—from rotoscope to full animation. How was the experience working for such a project?
Across several years me and DJ Gruff have enjoyed a creative friendship, exchanging work and music frequently. It seemed like a natural time to experiment with animation, given that our friendship has always been based on creative exchange
Thus, it was fitting that I should make the voyage from Rome to Moncalieri, near Turin, to paint the academy prior to its opening. What ensued was a weekend of music, art, and dance that spontaneously formed as everyone passed three days together.
At some point I asked myself, "What would happen if the figures in my paintings suddenly became animated"? And this was how the idea for the animated clip "What Goes Around", in collaboration with animator Rocco Venanzi, was born. The animation is meant to capture the spontaneous atmosphere and spirit with which the walls were painted.
We worked from the video footage photographer Jessica Stewart shot while the artist was painting the interior of the Zero Stress Accademia in Moncalieri, Italy. This innovative breakdance and DJ academy was founded by legendary Italian musician, Sandro Orrù (DJ Gruff), my friend and a collaborator. Himslef produced the music for the animation—directing the sound design and effects.
This video/performance/mural/animation reaches its apex when Gruff's music, like the Pied Piper, leads dancers Eddy and Valentina into animation. They melt from our real space into the painted walls, suggesting a continuous game of transformation.
Would you consider to collaborate again with musician?
Sure!
Do you listen to music when your working ?
Yes! You can listen to it here:
I also have thoses musicians on my current playlist :
Talking Heads
Blonde Redhead
Kendrick Lamar
Metronomy
Franco Battiato
 
What is the song you liked the most lately?
There is a song I recently discovered by Gus Dapperton " I'm Just Snacking" that I really like.
What is your favorite album at the moment?
Ahhhh... It's too difficult to answer!
What was the last gig you went to ?
Blonde Redhead
Are you a musician yourself?
I've been studying music since I was young and I played the flute for an orchestra for years. But it was not my path.
THANK YOU SO MUCH ALICE PASQUINI
____________________
STAY TUNED WITH ALICE PASQUINI HERE :