Adam Hoens aka ND Local is a portrait artist from Vancouver, B.C. specialized in Hip-Hop portraits. Doing art for as long as he can remember, especially portraits. Since Hip-Hop is his favourite genre, he started making art of his favourites artists that inspire him.
Music On Walls had the chance to discuss with Adam Hoens about the music that inspires his art.
Hi Adam, can you tell MoW why you chose to create artworks inspired by music?
Music has always been a big influence on me. I literally start and end my day with music, playing it whenever I can. I've always enjoyed doing portraits so it was only natural for me to start doing portraits of the musicians I love and who have the biggest influence on me.
What is the reason why you chose these singers/musicians for your artworks?
I chose these particular artists at a time I really felt connected to them and their music.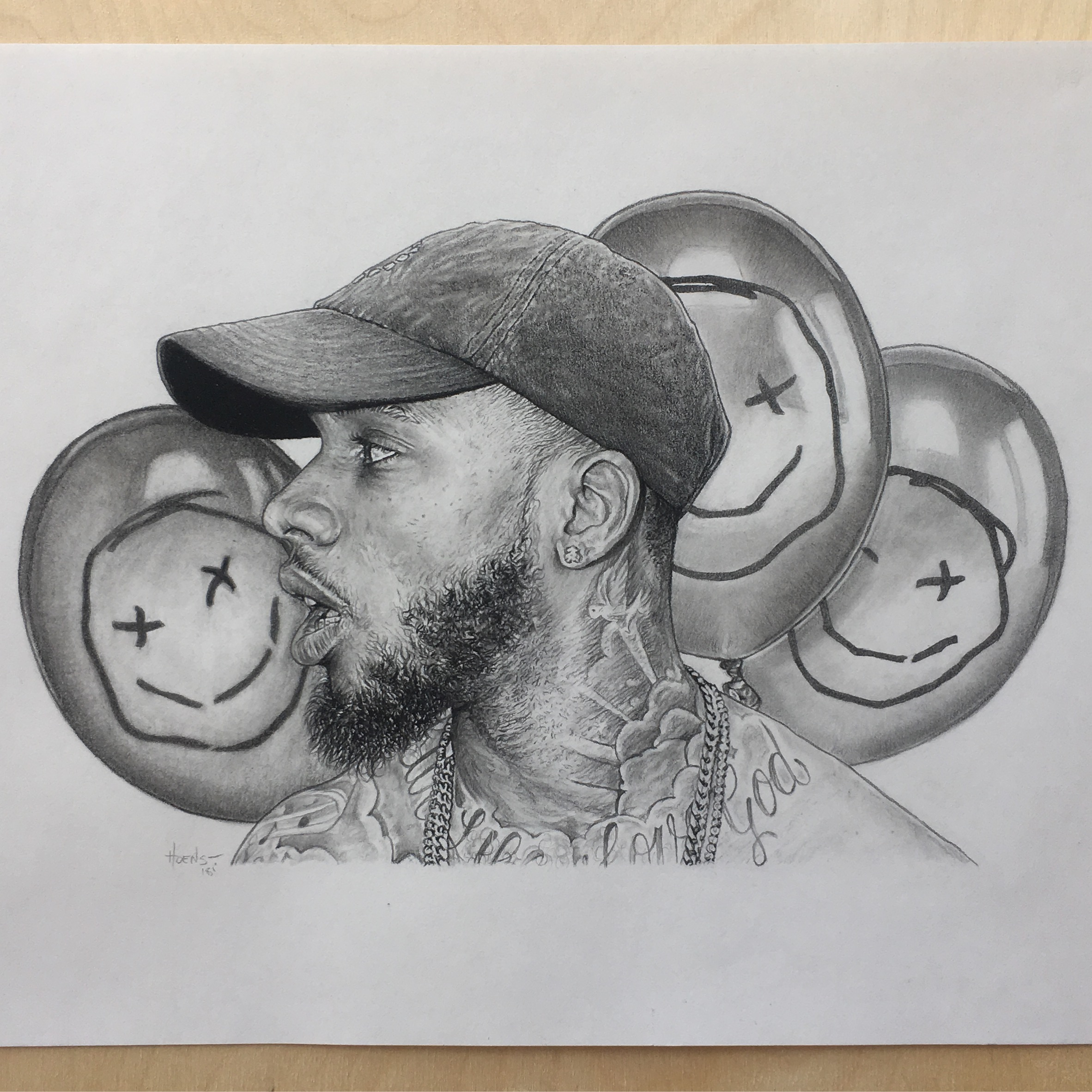 If you could connect each piece with one song, what would it be?
These are the songs for each piece that resonated with me the most.
6lack: " Never Know "
Beyoncé: " Me, Myself and I "
Big Sean: " One Man Can Change The World "
J Cole: " Love Yourz "
Joey Bada$$: " Land Of The Free "
Tory Lanez: " Happiness x Tell Me"
Do you have a favourite piece between the ones presented today? And if so, why ?
Yes, I'd say the Big Sean piece is my favourite and is the most sentimental to me. He's my favourite rapper and I would love to meet him someday. I did this piece right after he dropped his "Dark Sky Paradise" album. On it, he has a song titled " One Man Can Change The World" it's dedicated to his grandma who had passed. At the end of the song it has a voice clip of a phone call conversation he had with her before she passed. When this album came out I was going through a similar situation where my grandma was really sick and hospitalized. Soon after, my grandma passed. That's why I have a strong connection to this song. I produced this painting because I really respect him and love his music but also the impact that song had on me. It inspired me and it was almost therapeutic in a sense with helping me dealing with that loss. That piece is dedicated to her. She always believed in me and my art, long before I started getting any online recognition.
These pieces other than, these are all people that I respect and inspire me. Their stories and messages motivate me to create and keep pursuing my own passion. I don't just produce a piece with the intention of getting it shared or what will get the most likes. I'm really a fan of these artists and I make these pieces for my own pleasure and choose to share them online.
Why is music important to you, in your life and in your art?
Music helps me focus, that's why I always have music playing in the background of anything I do. Otherwise, I find my thoughts are so scattered so having something like music to focus on helps me prioritize and plan. As a result of listening to so much music and so often, I grow strong connections to certain songs and artists. I use that connection to fuel my creativity in art. I really go all in when I make a piece. I'll make a discography of that artist and only listen to them for however long it takes to finish that piece. I also try to learn as much as I can about them by watching and reading whatever interviews, music videos or content I can find. It's almost a collaboration for me because their story and music helps produce the piece. Sometimes something as simple as a single lyric will trigger an interest in someone I'm unfamiliar with. If it's someone I'm familiar with I'll go back and re-watch interviews and listen to older albums.
Do you have plans on creating new artworks inspired by music/musicians ?
I have such a long list of artists that I'm want to make portraits of and it grows monthly. Right now I have a lot of unfinished pieces. Once I'm caught up with everything, I'll start some new ones. The next few artists I'll paint or draw will be Nicki Minaj, Young M.A., Metro Boomin and 21 Savage to name a few.
Can you tell Mow more about your techniques and how long does it takes you to make an artwork?
Since I didn't go to school for art, all the techniques that I implement are ones that I've come across online in the last few years. I'm always researching different mediums and their techniques. I experiment and practice using these mediums until I find one I like and which techniques work best for me. In regards to time spent on a piece it really depends on the size and medium that I'm using. So far the Big Sean painting I did has taken the longest, close to 80 hours.
Do you listen to music when your working ?
Music is a must for me when I'm working on art. Before starting to work on a piece I'll make a playlist of that artists discography. I'll solely listen to that artist music while I work on their portrait. I find it helps to encapsulate them and also helps me with it's inception and completion.
Discover the playlist that Adam made for Music On Walls on Deezer :
What is the song you liked the most lately? What album ?
I've been working on a Travis Scott portrait recently, so I've been listening to his latest album "Astroworld " a lot. I really enjoyed it, it's a solid project.
What was the last gig you went to ?
The last concert I went to was Kid Cudi. He came to Vancouver last November. He is one of my favourites, so that was a show I was super excited for.
Are you a musician yourself?
Unfortunately I'm not a musician myself.
If so, could you tell us more about your music. If not, how would you see yourself as a musician?
If I were, I would want to learn to play the drums. Drums have been and are always what I listen for in any song or genre of music. The complexity and mood that drums can bring to a song I feel is unmatched to any other instruments.
_____________
THANK YOU SO MUCH ADAM
STAY TUNED WITH ADAM HOENS HERE