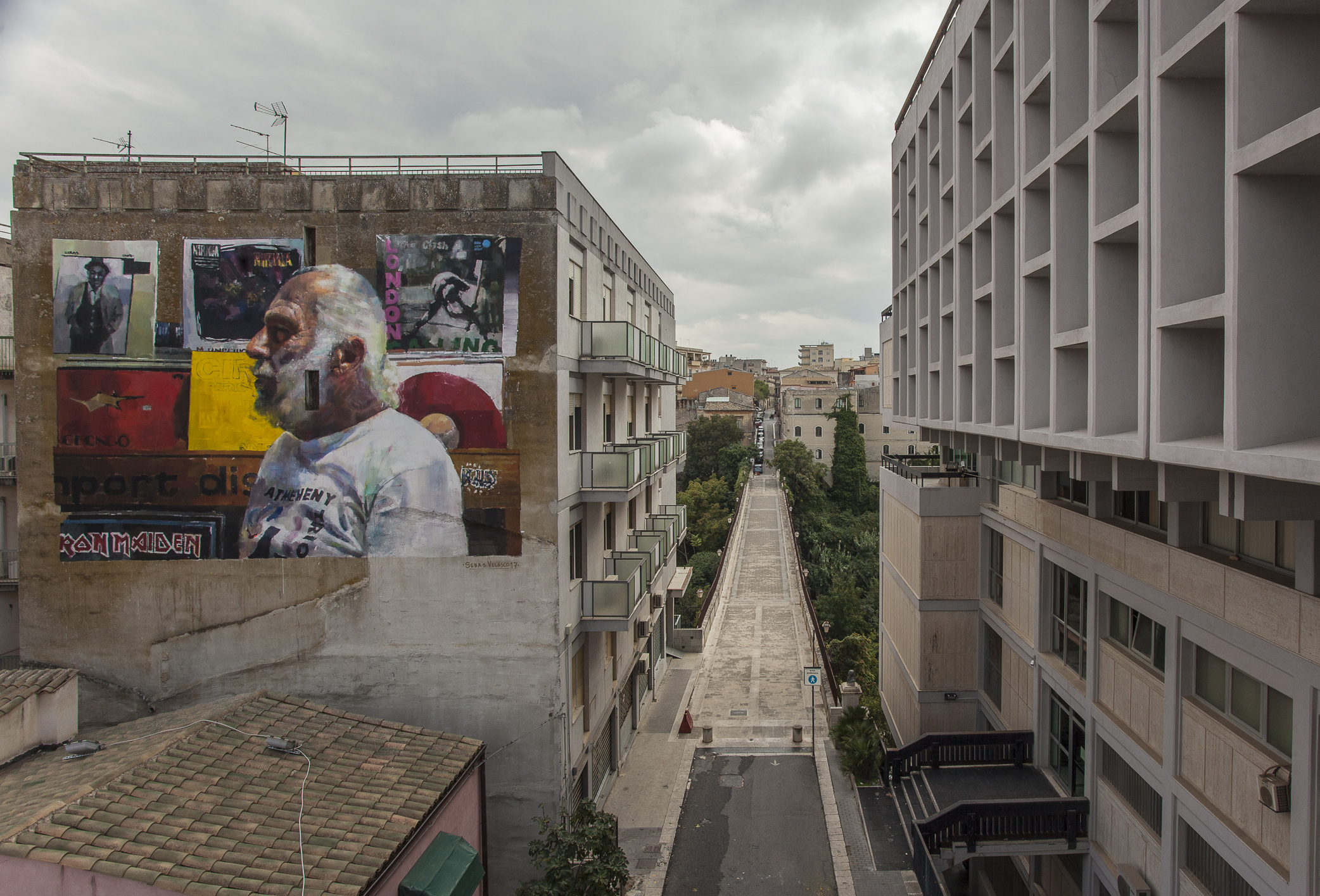 After completing his recent mural in Ragusa, Music On Walls had the chance to ask Sebas Velasco about how he got inspired to create a mural connected to music.
Hi Sebas, can you tell Music On Walls how you got inspired to create "Il Suonatore Gino"?
The whole story began when I was walking around with Vinzenzo before starting the wall, getting the materials and looking around for inspiration. I saw the record shop (Magic Music) and I wanted to get some of Fabrizio de André's records. He is my favorite italian singer. Once I entered the shop I realized that it was a very nice place that would inspired me for the painting.
I thought that bringing forward a record shop in a small Sicilian town was a very nice thing. Also portraying Gino, the owner of this shop which exists for over 40 years now. Thus both the visual aspect of the scenario and the meaning seemed to me very appropriate.
I knew I wanted a de André song title for this piece. The title "Il Suonatore Gino" makes reference to the song "Il Suonatore Jones" by Fabrizio de André.
"Suonatore Jones" is a beautiful song which matched as a tribute both for di André and Gino, who "sounded" like music for many music generations.
Since I met Gino, I am now discovering some new music that he recommended to me, such as William Ackerman. At the same time I hope that after completing the wall some people will also discover Fabrizio de André´s music.
Can you tell us the names of the records that you painted in the background?
Hard Again (Muddy Waters), Unplugged in NY (Nirvana), London Calling (The Clash), Profondo Rosso [Original Soundtrack], Paris Concert (Circle), Fabrizio de André In concerto and Iron Maiden (Iron Maiden).
Why did you decide to paint these records?
I decided to paint these records for different reasons. First because of casualty and also because of the colors. For example, two of the records which I didn´t know before: Profondo Rosso [Original Soundtrack], Paris Concert (Paris) and also some of Gino´s favorites like Muddy Waters´s. Some are very special to me, like Nirvana´s Unplugged or Iron Maiden's first album. It´s curious because when I was a kid I was obsessed with drawing Eddie all the time. And 20 years after, Gino's grandson does the same!
What would be your favorites songs from theses album?
Well, this is difficult to say. Perhaps "Phantom Of The Opera" by Iron Maiden, or "The Man Who sold the World" by Nirvana.
Do you have plans on creating new artworks inspired by music?
Sure, it could be part of my plans. Even if I don´t play any instrument, music is vey important in my life. I always listen to music while I'm painting. And very often I use music songs or albums as titles for my artworks . Also my brother plays in a death metal band called Mistweaver, and my cousin (Jaime Velasco Ayensa) is a musician who plays spanish guitar. So I guess that is also a source of inspiration that I have around me.
THANK YOU SEBAS VELASCO!
MORE INFOS :