After a 3-week residency at Urban Spree that culminated in a solo show "Journey" in the galerie (on view till 21.04.2018), the NYC-based visual artist Bisco Smith shares with Music On Walls his experience creating a whole new body of large scale works during his stay in Berlin.
"Journey" brings the visitor to the universe of Bisco's largely freestyle and calligraffiti-inspired black-and-white visual beats.
Hi Bisco, what did inspire you musically to create the show « Journey »?
All my work is inspired by music. I work to beats, music with no vocals. The marks I make and the words I write are all a reaction to the beats I am playing or making at the time.
Watch this interview video made by Jasmine Angelique of Bisco Smith -"The Art of Music"
What part of this « Journey » is connected to your time spent in Berlin?
The whole "Journey" exhibition was created at Urban Spree during my residency there. So I would say the whole thing, every part of it was influenced by the city. Working at Urban Spree and living in Berlin was an amazing energy. Waking up and riding the train to the studio, feeling the energy, and being a part of the day to day life there definitely added to the work.
How did Berlin inspire your art and your mood?
I worked a ton and stayed in my little zone for the most part, Urban Spree and its surrounding areas to the apartment. But overall the city in the winter had a vibe that felt perfect for making work and the energy at Urban Spree very much inspired and motivated me.
How was your general experience being in a 3 week residency at Urban Spree?
The staff, the artists, the events and steady creative activity going on all added to make my experience amazing. It's a blessing to be given the time, space, and support to work towards a show, away from home, and with a clear focus. Overall I had a super special and inspiring time out there and can't wait to come back again! I didn't want to leave! haha. For me, overall it's about the people, and everyone that has anything to do with the space were so welcoming, supportive, inspiring, and encouraging to be around. It was a top notch experience!
Watch this recap video made by Jasmine Angelique of Bisco's "Journey" at Urban Spree
Did you write any songs during your stay in Berlin?
All the work is approached pretty much as drafts / pieces to actual songs. I could pull lyrics from them all and compose a proper record. But the practice for me here is often to free write or use certain lines and foundations to the work.
Could you share with us some lines?
Some of the lyrics in the works are "Journey Unknown, Wherever it goes, stay open on roads, watch it unfold" "Travel light on the voyage of life" "Find your way over the tracks, fresh formats explore that"...
Have you been inspired by the music scene from Berlin?
I didn't really get a chance to step out of my work zone and explore the scene the way I would have liked to. It was super cold and I had a body of work to create. I did however get to catch some really amazing shows below the studio I was working in at Urban Spree. It was amazing to be able to work in peace and then walk downstairs directly below me and have a packed house watching a show. That was a fresh energy be working above.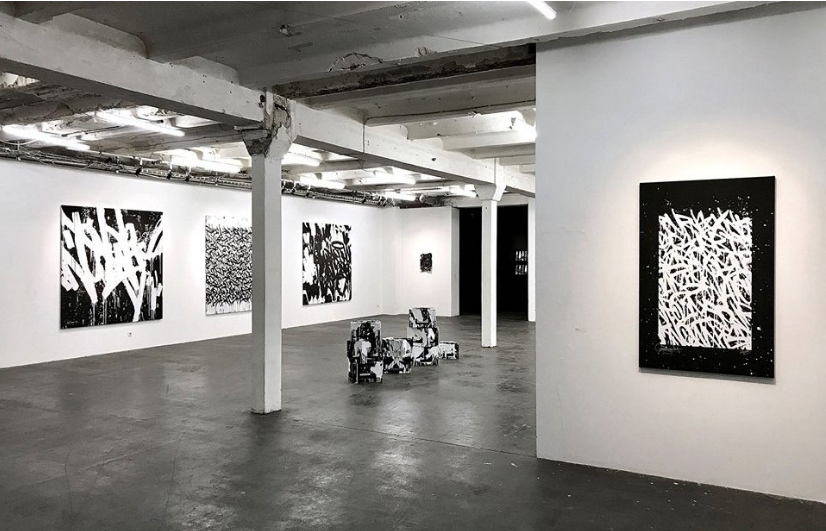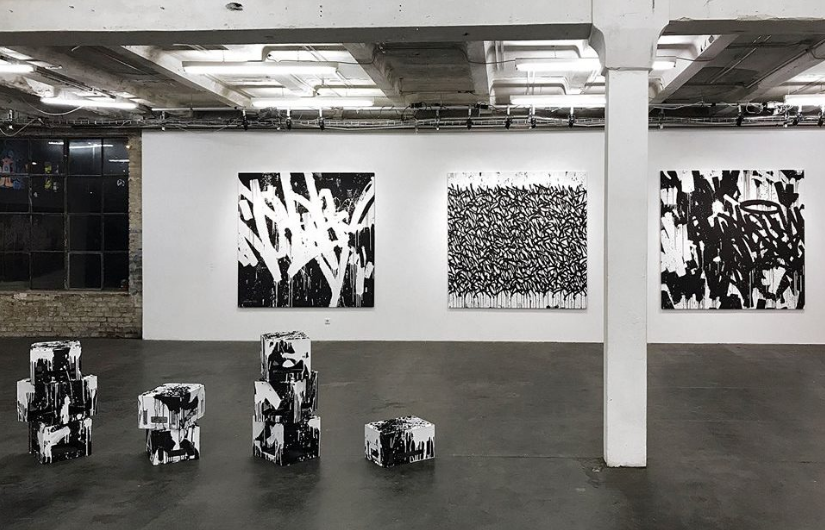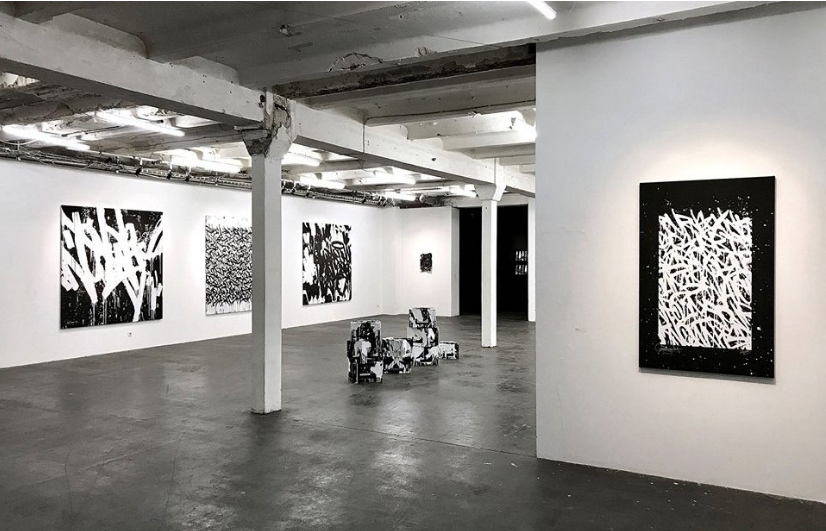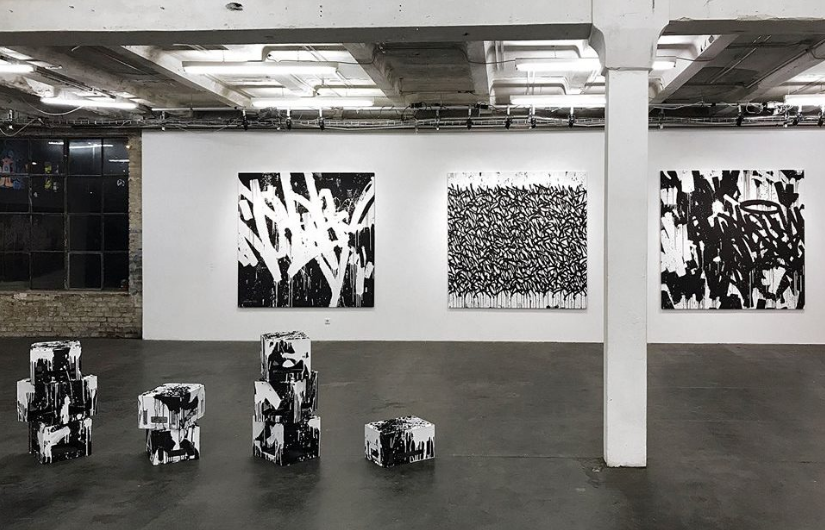 Photo courtesy Urban Spree Galerie
Can you remember what was on your playlist during your residency ?
Some of the artists I think I had in rotation then were: Joey Pecoraro, Blockhead, Bilo 503, Ziga Murko, Leva, The Midnight Eaz, Damu, Foisey, Bonobo, to name a few...
Would it be one song that could represent the show « Journey »?
It hasn't been made yet. Haha all in time!
What is on your playlist right now?
Mos Def - Life in Marvelous Times
Oddisee - Belong to the World
Lojii - Northern Organix
Bonobo - Migration
Lush Vibes playlist
Thank you Bisco!
More about Bisco Smith
Bisco's roots lie in music, graffiti, and street art. He works in a variety of formats, including canvas and large outdoor murals, and his style can be characterized as a blend of graffiti deconstruction, gestural abstraction, and lyric-based style writing. Made predominantly with a black and white color palette, his art visually captures the rhythms of music and the energy of the moment through its spontaneous marks and abstracted text. His work is regularly exhibited in major markets and is collected by both national and international collectors.
Stay tuned with Bisco Smith here