YoAz is an illustrator and digital artist from Paris, France. In his works, which are almost entirely done on the computer, he likes to play around with vector and geometric form. His inspiration comes from street art, pop art and cubism.
Hi Yo Az, today you selected for MoW 4 of your artworks inspired by music. Can you tell MoW why you chose those music artists ? What was the music behind the artworks ? What inspired you to create them ?
I think they are all iconic and they all brought something to music. I chose this one because I listen a lot of their song during my life.
I listened to a lot of reggae when i was younger. Toots & the Maytals, Peter Tosh, Israel Vibrations , Gladiators, Barrington Levy, Dennis Brown, Groundation, Damian Marley...
so i decided to do a Bob marley portrait because this man symbolises a lot of things for me, not just reggae, he has also becamome a symbol of peace.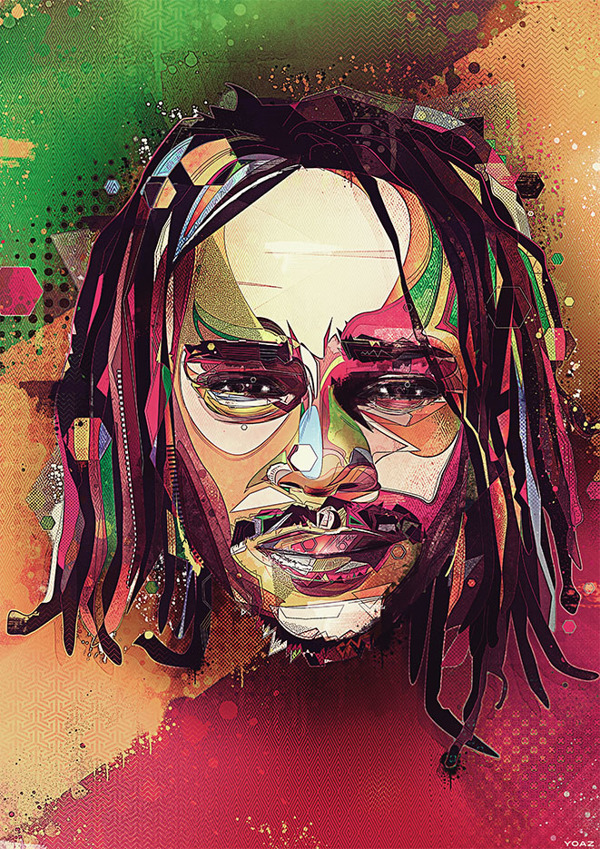 Jimi Hendrix was a big artist and represent the 60's, I love this period. I love purple haze song.
Bootsie Collins and Herbie Hancock are both commissions work for a parisian club. think they are both music monuments, and I love Bootsie's style.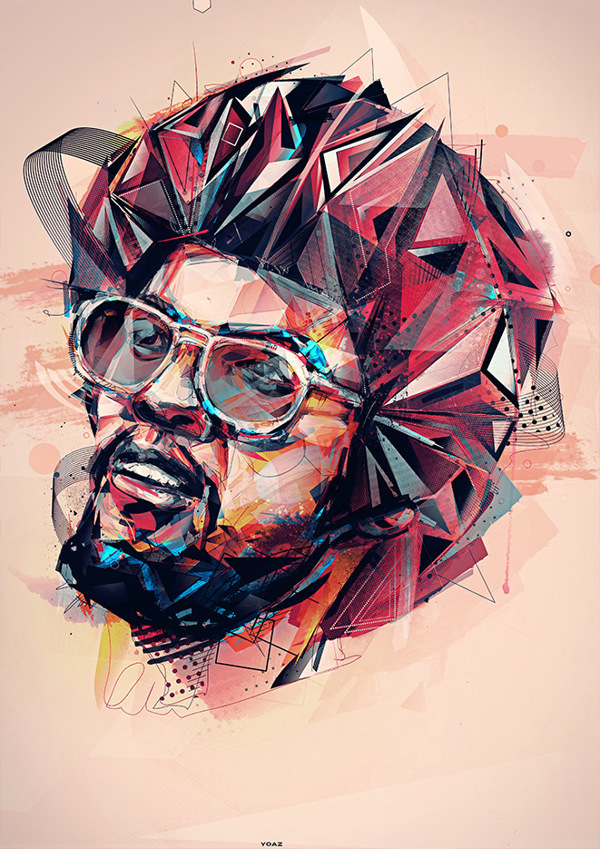 For Notorious Big, his flow is just incredible and rap back then was just perfect.
Why is music important to you and your art?
I think music is really important in life. It creates a lot of emotion. I think it can influence a lot your mood. Music can remind you a moment of your life, it can remind you a mood you had at that moment or a sensation ; it's very powerful.
If you had to choose between the artworks presented today, which of your artwork would be your favorite ? And why ?
I would say the Jimi Hendrix, I think it's the more graphic and it has more impact.
Can you tell MoW more about the techniques you used. How old is your technique? How did it start? How long does it take you to make an artwork ?
First I draw by hand then I work on computer (on vector). I work on photoshop and add some texture and change the color to be more harmonious.
I think I started working like that 4 or 5 years ago. Usually it takes me between 3 to 10 days to finish a piece.
Do you have plans on creating new artworks inspired by music ?
Yes I am working on commissions to create music albums cover and some personal works as well . I am actually working on a jazz piece. I love working on music and also movie. It's a big source of inspiration
Do you listen to music when you're working ? If so, what kind of music ?
Yes a lot, I listen a lot of different styles : electro, old school rap ,reggae,jazz, blues...
What is the song you liked the most lately? The album ? What was the last gig you went to ?
Recently I listen a lot to Weval "Half Age". All the song from the EP are really good.
I also listen a lot of Chet Faker . And right now I'm listening to Nu "Earth" and that's a great song.
Are you a musician yourself ?
No I would love to but I think I have not the same patience when I am drawing as when I do music.
Find out more about Yo Az here :
https://www.facebook.com/27Yoaz