The art of Teis Albers is a mixture of elements from nature, pop-art and streetscapes. From blownup trashed typography and weathered billboards to still-lifes mixed with comic extravaganza. From the subconscious he plays with these various elements and allows the compositions to happen layer by layer. Everything comes together in a digital canvas where he has full control over size, composition and color. After that follows the physical layering with multiple prints and various materials like paint, glue and varnish.
Today you selected for MoW 6 of your artworks inspired by music. Can you tell MoW why you selected those?
The works I selected for MOW are in my opinion my strongest works yet and the ones that represent my style of work. I can't recall the exact music that inspired those works, but there was definitely music on during the making of them.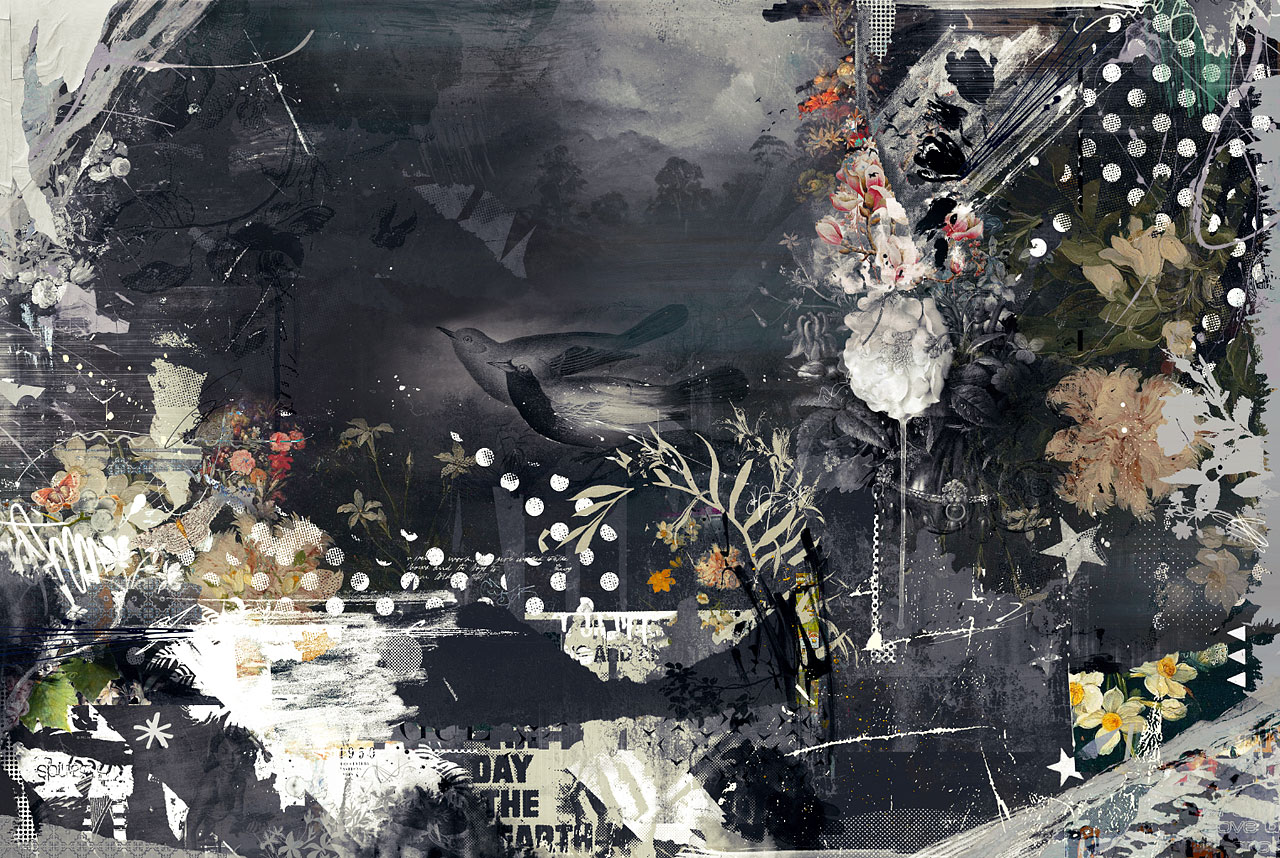 Do you listen to music when you're working ? If so, what kind of music ?

When I work in my studio I love to listen to all kinds of music. A year ago it was always loud and through some good speakers. Nowadays I use my headphones more and more because I have a little boy that needs his rest and I don't want to bother him with loud and weird music.
I do enjoy listening through headphones though, you listen to the music more intense, you're really disconnected from the rest of the house. This way I can really focus on what I am making, I get in some sort of tunnel where it's me, my hands, my work and my music.
The vibe that comes from the music definitely leads the way in the works, happy songs make the work different than emotional songs or classical music from movie scores.
- Why is music important to you and your art? Have you once said "Music Is Everything"? If so, could you tell MoW more about your statement.
I actually did once said that Music is everything, but I was a lot younger then. It did help develop me and made me who I am today. It separated me from 'mainstream kids' and it was a good way to meet new people with the same interest and taste in music.
Music does that, it's not just a song from a band, it's a whole lifestyle and world you can be a part of.
- If you had to choose one, which of your artwork would be your favorite ?
That's not that easy as they are all personal, but I really like a work called Love Birds (on the left). The composition and colors really work together. It's also one of the first that had a good balance between elements of nature and street art.
Your works are a mix of illustration, typography, photography and various compilation techniques. Can you tell MoW more about the techniques you used. How old is your technique? How did it start? How long does it take you to make an artwork ?
My technique is based on collage. I search for images from photography and try to combine these in a certain way. I shift colors around and paint over elements so I get a really layered feel to the work. I always try to find a balance in the composition an look for elements that work good together. An artwork usually has around 150 layers, small and big elements that all need each other to get the composition to work.
Most of the time I work on various artworks at the same time, some I finish and some are going nowhere. I heavily rely on my intuition while I make new art, that's the way I like to work and this way the outcome is always a surprise. Most of the time the hardest part is to know when you have to stop adding things, to be sure that it's finished.
- Do you have plans on creating new artworks insipired by music ?
Yes of course, it's part of my way of working. 
I 'm thinking about going more experimental one day by combining my collage works with animation and audio.
- What is the song you liked the most lately? Or album ? What was the last gig you went to ?
The albums I listen to a lot lately are
I_CON from a dutch band called de Staat.
MGMT - all albums
Head in the Dirt - Hanni El Khatib
AM - Arctic Monkeys
Branded - Dope DOD
AMOK - Atoms for peace
The Fall - Gorillaz
And also lot's of Pink Floyd and movie scores by Hans Zimmer like Inception and Batman
. As you can see, I like diversity. When I listened to a perticular album, I like to switch to something that's the opposite of that style.

The latest gig I went to was a concert of Pokey La Farge in de Effenaar in Eindhoven with some friends. Old fashioned americana folk and blues.
- Are you a musician yourself ? If so can you tell MoW more about your music projects ?
Yes I am. I used to play in bands when I was younger and still play guitar, bass and synths.
I see music production as the same creative outlet as making collage art. You layer sounds and keep working on it until the composition works.
But in making music I noticed you really need someone to play with and react on each other. Once in a while I get together with a drummer and jam, that way you can't predict the outcome, I really like that about making music.
Check out more about Teis Albers :
www.facebook.com/teisalbers.art