Jason Mecier has spent over 10 years creating outrageous 3-D mosaic portraits of his favorite pop culture icons. Each portrait is created from objects such as make-up, candy, pills, food and discarded junk donated from the celebrities themselves! Jason hopes to one day trade art with Marilyn Manson, Buffy Sainte-Marie, Jane Seymore and Yoko Ono. Jason lives and works in San Francisco.
Hi Jason, today MoW selected 10 of your artworks inspired by music from the "JUNK" series. Can you tell MoW why you chose to create about these music artist ? What was the music behind them ? What inspired you to create those ?
I have been working on a series of portraits I call "Celebrity Junk Drawer" made out of found objects and the celebrities actual "junk". Ana Matronic sent me a bunch of the Scissor Sisters stuff to use on their portrait that I was creating for their tour poster... Like backstage passes, her drivers licence and fabric and jewels from their outfits. Jane Wiedlin gave me a big bag of her trash... make-up, her hair dye and lip plumpers and Go Go's stuff. A lot of times I just pretend that I have the persons junk and try to find things that I think they would have or things that represent them or their image. Its fun to collect stuff and I like to use peoples cassette tapes or 8 track tapes as a wallpaper pattern (like Stevie Nicks, Prince, Joni Mitchell and Jane Wiedlin.) Some of these were used for tour posters and some were commissioned by fans and friends.
If you had to choose between the artworks presented today, which of your artwork would be your favourite ?
Its hard to say. I like them all differnt for different reasons. The Mary J Blige one is very striking and I love Stevie Nicks... The Willie one was one of the earlier pieces I did for the Filmore Theater so that one is special to me and the Snoop dogg is just rad because its made of real marijuana!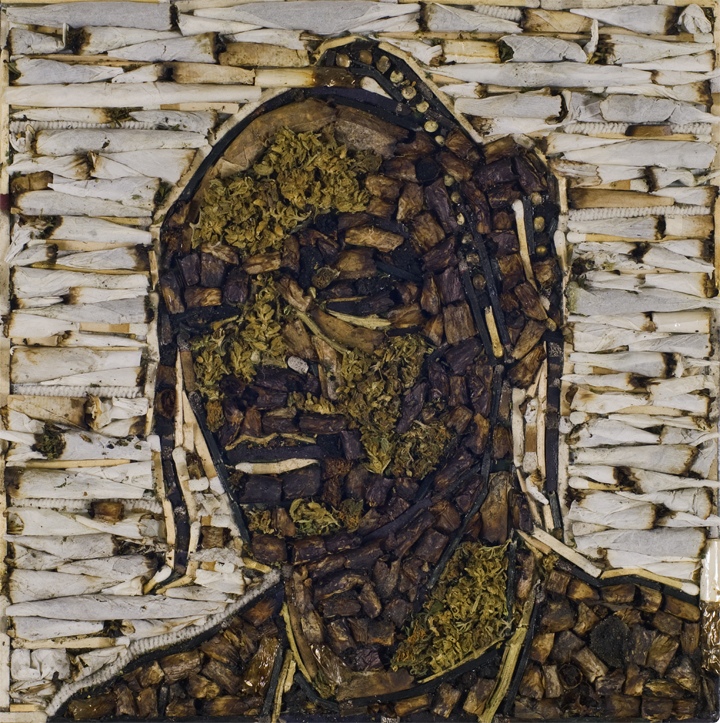 Can you tell MoW more about the techniques you used. When did you have the « junk » idea ? How long does it take you to make an artwork ? Where do you find all the « junk » and material ?
I have been doing these junk mosaics for over 10 years. Each portrait takes at least 50 hrs, some even longer. I've collected a lot over the years from thrift stores and just finding things... Nowadays a lot of stuff is gifted to me from friends, family, fans and the celebrities themselves.
Watch Jason Mecier at work :
Do you have plans on creating new artworks inspired by music ?
I would love to do a YoLandi Visser portrait out of cigarette butts and gold and white trash. And I'm working on some new candy art... Maybe Miley Cyrus out of Sour Patch Kids or Rihanna out of black and blue candy.
Do you listen to music when you're working? If so, what kind of music?
I listen to whoever's portrait I am working on... nonstop, on repeat for as long as it takes me to finish. I'II get into a zone...Its kind of good and kind of torture.
What is the song you liked the most lately? The album ? What was the last gig you went to ?
I actually like the new Beyonce song called "Drunk in Love"
My taste is all over the place. Like music over the top and well produced and when there's a full package, like image, good videos and strong style.
I like current pop culture and old school... everything from Meatloaf to Bauhaus to Buffy Sainte Marie to Dolly Parton. I love Die Antwoord. I didn't realize Miley Cyrus could actually sing. I listened to Bangerz yesterday and Snoop Lion.
I don't go out to live shows much anymore. Peaches at Bottom Of The Hill, and Dolly Parton in Golden Gate park were probably 2 of the best two shows I ever saw.
Are you a musician yourself ?
I was in a band for 10 yrs in the 90's, called "ENRIQUE" . We were like KISS meets Donny and Marie and the B52's. We were world famous in San Francisco, but it never took off the way we hoped.
Watch "ENRIQUE" on the news