David Nash started out in 1985 doing graffiti in Harlow, Essex, at that time he was predominantly painting 'letters' or words spray painted in a graffiti style. At the time, there was a growing graffiti scene and lots of well-known artists visited the town. Dave was inspired by the images of characters some the artists of that time were creating, he was hooked from that point and spent years developing his own style of graffiti.
In 1993 Dave studied art, graphic design, stopped doing graffiti and instead spent his time doing working in graphic design, travelling the world and DJing (his tag 'Gnasher' comes from his DJing days). Sixteen years later in 2009, a friend invited Dave out to go spray painting again, so he bought some paint and spent the day painting - he has been hooked ever since.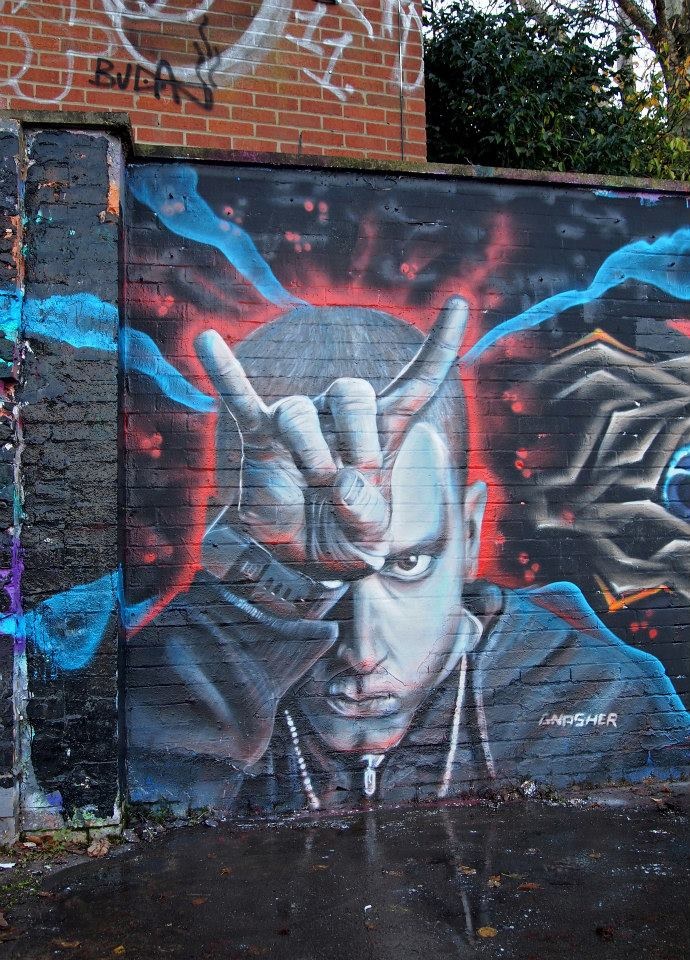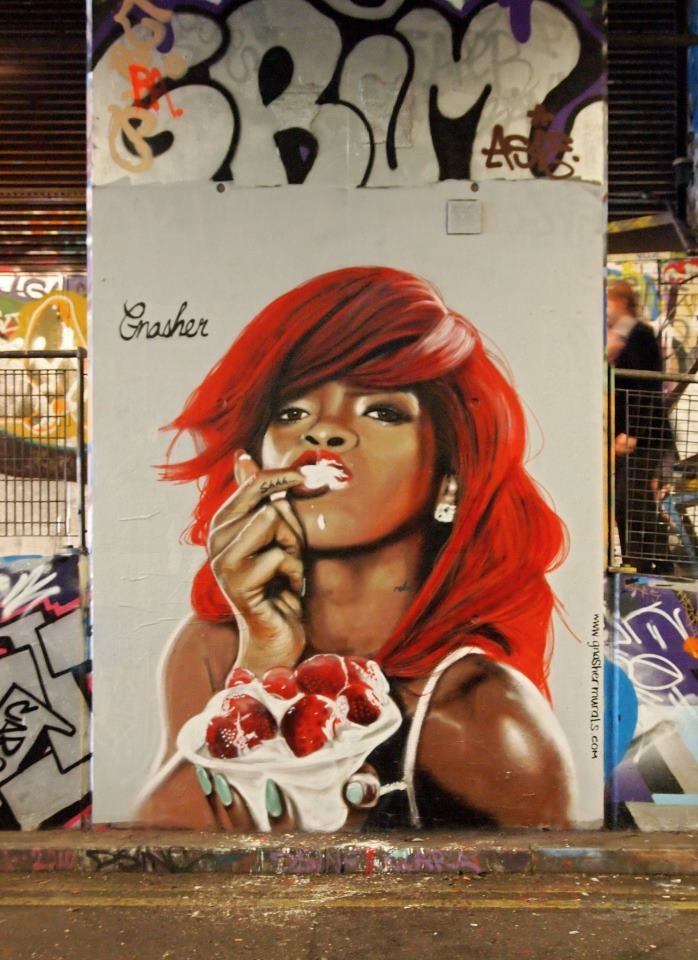 Hi Gnasher, today you selected for MoW 6 of your artworks inspired by music artists. Can you tell MoW why you selected those. How dis those music artists inspire you ?
I have painted a lot of music themed walls, I think these are probably my best. I love hip hop, so Eminem and Jay Z inspire me, I grew up listening to Hendrix and Charles are true inspirations but not really Rhianna, she's just cool to paint.
The most recent mural you've painted is inspired by Keith Flint from The Prodigy, why?
Ever since I was into Rave I've been Into The Prodigy classics like "Your Love". Everybody in the place was always in my set when mixing.... When they released Fat of the Land it blew my mind. Me and my friends got tickets for V97 festival and they were headlining on the Sunday night... They absolutely smashed it and Keith Flint pulled this iconic face.
If you had to choose one, which artwork would be your favourite ?
My favourite would have to be the Rhianna piece, it just came together well and it looked like her ha ha
Can you tell MoW more about the techniques you used. How old is your technique? How did it start? How long does it take you to make an artwork ?
I use spray cans, the technique which came from New York has been about since the late 70s. A character can take up to 4-6 hours.
Why is music important to you and your art? Do you listen to music when you're working ? If so, what is the kind of music you would listen to ?
I'm a failed house DJ, music was and still is important. You can't beat a bit of House, Hip Hop, Drum and Bass, Dub Step to keep you buzzing when you working.
Do you have plans on creating new artworks insipired by music ?
I'm always planning, a few music videos in the pipeline also.
What is the song you liked the most lately? Or album ? What was the last gig you went to ?
I like a couple of house tracks at the moment, can't remember their names.... I have a 4 year old and find it hard to get out to gigs. But recently while I was cleaning my car I came across "Invaders Must Die" by The Prodigy and have been playing that on loop at the moment.
Are you a musician yourself ? If so can you tell MoW more about your music projects ?
I'm not a musician but an ex DJ, the turntables were the only instrument I could play.
Find out more info about Gnasher here:
www.facebook.com/pages/Gnasher-Graffiti-Murals